Cara Benson, author of poetry book (made)and the forthcoming "Funny. Considering how heated it was," and receipient of a Poetry Fellowship from the New York Foundation for the Arts, blogs about teaching poetry at the Mt. McGregor Correctional Facility.
The poetry workshop I facilitate at Mt. McGregor Correctional Facility, a medium security state prison in Wilton, New York,  began as a three month teaching practicum for my graduate degree. It became clear fairly quickly that three months wasn't nearly enough to meet the interest and needs of the students inside. So we extended it to four months. Then five. Then a year. Now it's been seven years and counting.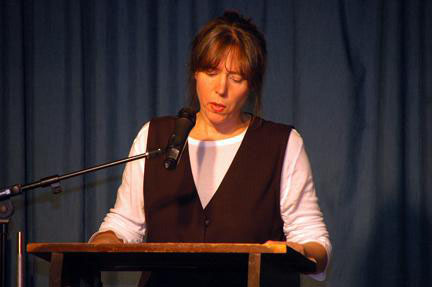 In that time we have covered such varied poets as Lu Chi, Rumi, Sappho, Amiri Baraka, Federico García Lorca, T.S. Eliot, Sonia Sanchez, EE Cummings, Audre Lorde, Muriel Rukeyser, LaTasha N. Nevada Diggs, Alice Notley, Gil Scott-Heron, and CA Conrad. The list is growing like the years. Dozens of men - maybe a hundred - have come to and through the class. Some on the outside are now proud graduates of Higher Education. On the inside, a few lifers have been there since my first day. I have seen many things happen in that classroom, but fostering the dissolution of preconceived notions of what can be called "poetry" under the influence of poems like Joan Retallack's "A I D /I/ S A P P E A R A N C E" or Douglas Kearney's page work is particularly gratifying. I've seen, like realizing blondes aren't the only beauties, the canon explode in front of our faces, and I tell you that this is a very right thing to be happening inside.
Last month we read Harryette Mullen's Muse & Drudge and discerned a number of tactics worth replicating. The participants loved her multiple voices, taut quatrains, and ability to twist common sayings into such rhythmic, flipped scripts. This month we are working with Rob Budde's Declining America. There is a section in this book that plays out in scenes he's called "My American Movie" after Jean Baudrillard's America. So we are writing our own American scenes under the influence of his text. His poems gyrate without punctuation and stream as one undulating and pullulating sentence in prose, and the task I've given us of emulating his approach has proven provocative and productive.
Eric Perez, one of the participants, has this to say about the class: "Our poetry workshop has given us a unique opportunity to liberate ourselves from an oppressive system, even if only for a brief time during the week. This helps us to reach a broader understanding of life and its circumstances and to push the boundaries of our intellect in order to build our self esteem." I am very grateful to Poets & Writers for the support it gives for the class. It can be really challenging, the proverbial upstream swim, to be a volunteer poet for the New York State Department of Corrections. Poets & Writers not only provides remuneration, but it legitimizes the endeavor. It truly has helped me to show up week after week, year after year. And as the late poet and tireless prison educator/activist Janine Pommy Vega used to say to me whenever I complained about a seeming setback or "lost" student: "Cara, you just keep going in." So I do.
Photo:  Cara Benson.   Credit: David Brinson.

Support for Readings/Workshops in New York is provided, in part, by public funds from the New York State Council on the Arts, with additional support from the Friends of Poets & Writers.