Social justice activist and Cave Canem fellow Ama Codjoe blogs about participating in a P&W–supported Cave Canem regional workshop with formalist poet Marilyn Nelson in 2009. 
In fall 2009, Poets & Writers supported a Cave Canem regional workshop with Marilyn Nelson. Nelson is a goddess of formal poetics. Before taking a workshop with Marilyn I had little experience with sonnets, sestinas, or ballads. Through a series of lessons on meter, rhyme, and phrasing, I learned the arithmetic of formalism.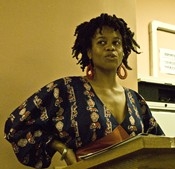 Nelson asked us to pay particular attention to the construction of the poetic line. Through a sequence of assignments we experienced how careful and intentional construction could lead to a meaningful, surprising, and exciting composition. Formal verse provides the writer with added parameters. Nelson's poetry exhibits how such constraints used skillfully can produce poems that are wild, challenging, liberating, and free. Gwendolyn Brooks and Robert Hayden offer examples of how constraint or restraint can be used to describe terror, horror, beauty, and oppression. In these ways formal poetry holds paradox with nimble hands.
To conclude our time together Marilyn asked us to write one sonnet. About two years later, a childhood friend reminded me of a series of poems that we read when we were teenagers. "Don't you remember?" she asked. "Who touches this poem touches a woman." I did remember. The last line of Julia Alvarez's last sonnet was a line that moved my teenage-becoming-a-woman self. Rereading those sonnets from Alvarez's first book, Homecoming, was a kind of homecoming. I admired the way her sonnets sounded both casual and intimate. The themes she was obsessed with: relationships, God, marriage, and womanhood resonated with the preoccupations of my thirty-something mind and heart.
By experiencing the resonance of a poetic line as a teenager and returning to that line as an adult, I began a process of constructing, revising, and building a sonnet cycle of my own. I am grateful for Nelson's instruction and for an introduction to formalism that continues to shape and propel my work.
Photo: Ama Codjoe. Credit: Amanda Morgan.

Support for Readings/Workshops in New York City is provided, in part, by public funds from the New York State Council on the Arts, and the Department of Cultural Affairs, with additional support from the Louis & Anne Abrons Foundation, the Axe-Houghton Foundation, the A.K. Starr Charitable Trust, and Friends of Poets & Writers.