Social justice activist and Cave Canem fellow Ama Codjoe blogs about writing in form and five days in the woods.
In September of 2011, equipped with lessons from the P&W–supported Cave Canem workshop with Marilyn Nelson and with Annie Finch's A Formal Feeling Comes: Poems in Form by Contemporary Women, I drove to a friend's country home in Pine Plains, New York. I spent five days alone in the woods (with deer, wild turkey, trees, and books as worthy companions).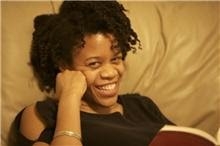 Most writers acknowledge the benefit of retreat. Getting away enabled me to turn off technology and turn any distractions into sustenance: cooking, watching the lake shift and move, or watching a deer watching me. In this way some retreats are a coming towards: towards nature, towards community, towards solitude, towards discipline. I am grateful to have benefited from different kinds of retreats where I have learned about the craft of poetry, the power of community, and the sacredness of solitude.
Writing is a creative act that one performs alone, but when I began writing sonnets after Julia Alvarez, I was communing with the poems I had read and the poets I had heard. I am not sure that I would have decided to write thirty-three sonnets without my time in the woods. I know that I wouldn't have begun writing a series of sonnets without the P&W–supported regional Cave Canem workshop with Marilyn Nelson in 2009.  We explored the virtues of formal poetry, and it was then that I first dipped my toes into the waters of the sonnet.           
Since September, I have crafted sonnets about mermaids, desire, fishermen, and seascapes. They are the most personal poems I have written. They are poems that benefit from the syllabic, rhythmic, and aural constraints of formal verse. The word sonnet comes from the Italian word sonetto meaning "little song." Through composing and revising sonnets, I am singing to myself, to Alvarez, to Nelson, and to the deer and turkey in Pine Plains too.
Photo: Ama Codjoe. Credit: Matthew Goldberg.
Support for Readings/Workshops in New York City is provided, in part, by public funds from the New York State Council on the Arts, and the Department of Cultural Affairs, with additional support from the Louis & Anne Abrons Foundation, the Axe-Houghton Foundation, the A.K. Starr Charitable Trust, and Friends of Poets & Writers.