This week, the National Book Foundation announced the longlists for the 2015 National Book Awards. Annual awards of $10,000 each honor the best book of the year published in the United States in the categories of fiction, nonfiction, poetry, and young people's literature. The shortlists will be announced on October 14, and the winners will be named during the foundation's National Book Award Ceremony and Benefit Dinner in New York City on November 18.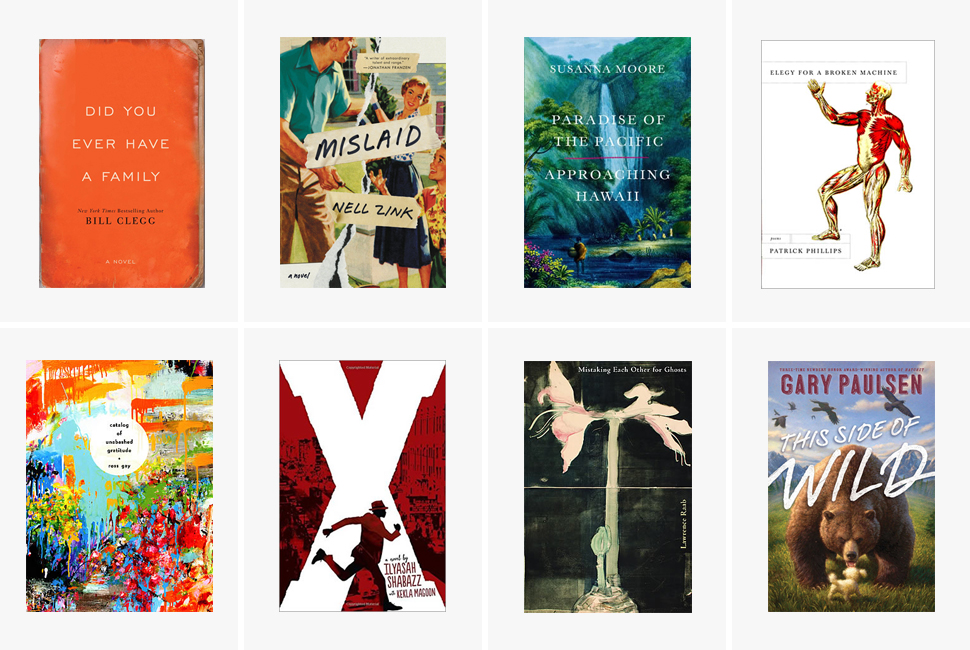 The ten finalists in fiction are Jesse Ball, A Cure for Suicide (Pantheon Books); Karen E. Bender, Refund (Soft Skull); Bill Clegg, Did You Ever Have a Family (Scout Press); Angela Flournoy, The Turner House (Houghton Mifflin Harcourt); Lauren Groff, Fates and Furies (Riverhead); Adam Johnson, Fortune Smiles (Random House); T. Geronimo Johnson, Welcome to Braggsville (William Morrow); Edith Pearlman, Honeydew (Little, Brown); Hanya Yanagihara, A Little Life (Doubleday); and Nell Zink, Mislaid (Ecco).
Fiction judges Daniel Alarcón, Jeffery Renard Allen, Sarah Bagby, Laura Lippman, and David L. Ulin selected the titles from a list of 419 books.
The ten finalists in nonfiction are Cynthia Barnett, Rain (Crown Publishing Group); Ta-Nehisi Coates, Between the World and Me (Spiegel & Grau); Martha Hodes, Mourning Lincoln (Yale University Press); Sally Mann, Hold Still (Little, Brown); Sy Montgomery, The Soul of an Octopus (Atria); Susanna Moore, Paradise of the Pacific (Farrar, Straus and Giroux); Michael Paterniti, Love and Other Ways of Dying: Essays (The Dial Press); Carla Power, If the Oceans Were Ink: An Unlikely Friendship and a Journey to the Heart of the Quran (Henry Holt and Company); Tracy K. Smith, Ordinary Light (Alfred A. Knopf); and Michael White, Travels in Vermeer: A Memoir (Persea Books).
Diane Ackerman, Patricia Hill Collins, John D'Agata, Paul Holdengräber, and Adrienne Mayor judged.
The finalists in poetry are Ross Gay, Catalog of Unabashed Gratitude (University of Pittsburgh Press); Amy Gerstler, Scattered at Sea (Penguin); Marilyn Hacker, A Stranger's Mirror (W. W. Norton & Company); Terrance Hayes, How to Be Drawn (Penguin); Jane Hirshfield, The Beauty (Alfred A. Knopf); Robin Coste Lewis, Voyage of the Sable Venus (Alfred A. Knopf); Ada Limón, Bright Dead Things (Milkweed Editions); Patrick Phillips, Elegy for a Broken Machine (Alfred A. Knopf); Rowan Ricardo Phillips, Heaven (Farrar, Straus and Giroux); and Lawrence Raab, Mistaking Each Other for Ghosts (Tupelo Press).
Poetry judges Sherman Alexie, Willie Perdomo, Katha Pollitt, Tim Seibles, and Jan Weissmiller selected the longlisted titles from 221 books.
First conferred to poet William Carlos Williams in 1950, the National Book Award is one of the country's most prestigious prizes in literature. Other notable winners include Sherman Alexie, Jonathan Franzen, Joyce Carol Oates, and Adrienne Rich.
To learn more about the finalists and judges of this year's awards, visit the National Book Foundation website. The foundation recently announced that author Don DeLillo will be honored with the 2015 Medal for Distinguished Contribution to American Letters during the awards ceremony on November 18.