See writers who are published in this journal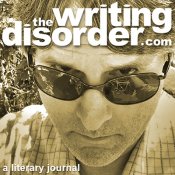 Genres Published:
Poetry, Fiction, Creative Nonfiction
Formats:
Online, Digital, Print, Audio
Accepts Unsolicited Submissions:
Accepts Simultaneous Submissions:
Editorial Focus
The Writing Disorder is a quarterly literary journal devoted to literature, art and culture. Our mission is to showcase new and emerging writers—particularly those in writing programs—as well as established writers. We feature new fiction, poetry, nonfiction, interviews, reviews and art. Although we strive to publish original and experimental work, The Writing Disorder remains rooted in the classic art of storytelling. Our poetry editor is Juliana Woodhead. Send poetry to: poetry@thewritingdisorder.com
Tips From the Editor
Submit your best work. We publish writers of all ages—from all over the world. No maximum word count. Read, Write, Submit.
Last updated: May 12, 2022