See writers who are published in this journal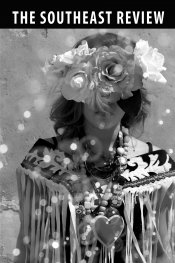 Genres Published:
Poetry, Fiction, Creative Nonfiction
Accepts Unsolicited Submissions:
Accepts Simultaneous Submissions:
Subscription Price:
$15 for 1 year (two issues)
Editorial Focus
The Southeast Review, established in 1979 as Sundog, is a national literary magazine housed in the English department at Florida State University and is edited and managed by its graduate students and a faculty consulting editor. The mission of the Southeast Review is to present emerging writers on the same stage as well-established ones. We publish literary fiction, creative nonfiction, poetry, interviews, book reviews and art.
Tips From the Editor
The Southeast Review accepts submissions for publication consideration exclusively through our online Submission Manager. Except for contest submissions, paper submissions sent through regular postal mail will not be read or returned. SER does not, under any circumstances, accept work via email. During contest season, entries to our World's Best Short Short Story, Poetry, and Creative Nonfiction competitions may be sent via post or through our dedicated-contest online system via Submittable according to the instructions posted on our website.
Contact Information
Laura Biagi, editor in chief
Last updated: May 20, 2022