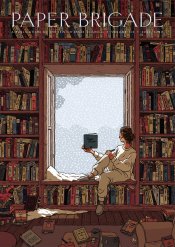 Genres Published:
Poetry, Fiction, Creative Nonfiction, Translation
Accepts Unsolicited Submissions:
Accepts Simultaneous Submissions:
Issue Price:
$25 in the continental US; $46 outside the continental US
Subscription Price:
$44 for two years; $63 for three years; $80 for four years; additional postage for orders outside the continental US
Editorial Focus
Paper Brigade is the print literary journal of Jewish Book Council. Composed of articles, interviews, fiction, poetry, and artwork, it celebrates the breadth and diversity of today's Jewish books in the US and abroad. The journal seeks to expand commonly held ideas of what constitutes the Jewish experience and to highlight ties between Jewish books and the wider literary world.
Tips From the Editor
We suggest that you familiarize yourself with Paper Brigade before submitting. Several pieces published in the journal can be read for free on the Jewish Book Council website. 
Contact Information
Becca Kantor, Editorial Director
Last updated: Feb 13, 2023