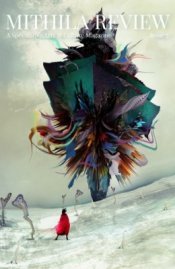 Genres Published:
Poetry, Fiction, Creative Nonfiction
Formats:
Web, E-publication, Audio, Video
Accepts Electronic Submissions:
Accepts Simultaneous Submissions:
Accepts Unsolicited Submissions:
Editorial Focus
Mithila Review is an international speculative arts and culture magazine. We are open to original submissions as well as translations from around the world.
Along with original speculative fiction and poetry, we will host reviews, discussions and appreciations of stories, books, movies, television series, arts, comics, etc that explore interstitial spaces and marginal experience in the world we live today.
Tips From the Editor
Please send us your best stories. As a new market in a part of the world where none exists, where nobody expects us to publish, we cannot afford to compromise on quality.
The personal is always political. We seek to publish fiction, poetry and art that reveal, resist or address various forms of tyrannies.
Last updated: Nov 30, 2018