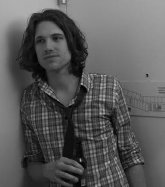 Publications and Prizes
Journals:
34thParallel
,
Baldhip
,
Conclave: A Journal of Character
,
Crack the Spine
,
Fjords Review
,
Garbanzo Literary Journal
,
Prairie Wolf Press Review
,
Spark: A Creative Anthology
,
SubtleTea
,
The Basil O'Flaherty
,
Good Men Project
,
The Stockholm Review of Literature
,
Virginia Normal
,
Wilderness House Literary Review
Prizes Won:
Winner of the 2018 "The Riggs Gold Medal Essay Award" and "The Stark Award In Fiction In Honor Of Henry R. Roth". 2nd place in the 2018 "The Jack Grapes Poetry Prize". Pushcart Prize nominee in 2012 (fiction), 2015 (poetry), 2018 (poetry).
Reviews, Recordings, and Interviews
More Information
Listed as:
Fiction Writer, Poet
work_excerpt:
Wait For It (Hawaiian Shirts In The Electric Chair. Kuboa Press. 2014) : There's not a high enough hill on earth to stand on and scream for God. I can see you. Above the trees. A long blue sky with big fleece clouds. Pointing your finger straight up. Demanding first salvation, then a few dollars, and finally, just acknowledgment. But he never shows. How can that surprise you? You were never able to get us on the ground to stop laughing at you. You think God is going to turn the television down?
Last updated: Dec 06, 2018