See writers who are published in this journal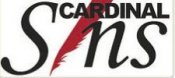 Genres Published:
Poetry, Fiction, Creative Nonfiction
Formats:
Web, E-publication, Print, Audio
Accepts Electronic Submissions:
Accepts Simultaneous Submissions:
Accepts Unsolicited Submissions:
Editorial Focus
Our focus is on anything that moves us. We desire well-written poetry, flash fiction, fiction, and creative non-fiction that has a brain and a heart. We are not looking for dripping over-sentimentality. But often, even in the most high-brow of works, there is an identifiable pulse of energy and emotion.
Cardinal Sins is not beholden by any specific aesthetic. Our only litmus test is that the work is good.
Cardinal Sins is trying to push the boundaries of traditional lit mags. We are producing an audio version of our journal and will be placing the journal on the Kindle and Nook stores.
Tips From the Editor
Please do not put contact info in your submission; place this info in your cover letter.
Please double-space for prose, single-space for poetry.
Please be honest in your bio - do not say you've won a Pushcart when you haven't.
Be open to suggestions. We often send back suggested edits after a piece has been accepted. These are intended to help, not hurt, the piece. We want it to be the best piece possible, just like you do.
Contact Information
Curtiss - Valley Vanguard
Last updated: Feb 17, 2017