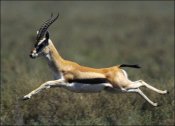 Genres Published:
Poetry, Fiction, Creative Nonfiction
Accepts Electronic Submissions:
Accepts Simultaneous Submissions:
Accepts Unsolicited Submissions:
Editorial Focus
The Furious Gazelle is striving to provide the best collection of original writing and art from across the World Wide Web. We're furious because we can never have enough submissions.
Before you submit to the Furious Gazelle, ask yourself the following about your submission: Does it have a good story? Is it compulsively readable? Are you a living human being who has written some words? If you answered "yes" to any of those questions, we encourage you to submit.
Tips From the Editor
We are currently running a February/Valentine's Day-themed writing contest, which you can read more about here: http://thefuriousgazelle.com/valentines-... The entry fee is $3. The prize is $50 for first place, and free copies of a print edition for all finalists.
We love work with strong story and style; humor is great, too. We'll consider any form of writing. We also have a column called Things That Make Us Furious for satirical essays, which we would love to receive submissions for.
We are unlikely to accept work with excessive and unjustified racism, sexism, or violence.
Contact Information
, The Furious Gazelle editors
Last updated: Feb 17, 2017