See writers who are published in this journal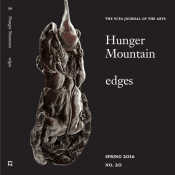 Genres Published:
Poetry, Fiction, Creative Nonfiction
Accepts Unsolicited Submissions:
Accepts Simultaneous Submissions:
Issue Price:
$12 for one new issue, $8 for back issues
Editorial Focus
Hunger Mountain is both a print and online journal of the arts. We publish fiction, poetry, creative nonfiction, visual art, young adult and children's writing, and literary odds and ends. Our print issue comes out annually in the early spring, and our online content changes on a regular basis. Our mission is to cultivate engagement with and conversation about the arts by publishing high-quality, innovative literary and visual art by both established and emerging artists, and by offering opportunities for interactivity and discourse.
Tips From the Editor
Please do send us your best work. Please don't send us detective stories. We're currently accepting submissions in poetry, fiction, creative nonfiction, and children's literature. The theme for our 2017 print issue is "masked/unmasked" and we hope to receive submissions that interpret that theme in broad and unusual ways.
Contact Information
Katie Stromme, Assistant Editor
Last updated: Apr 14, 2022