See writers who are published in this journal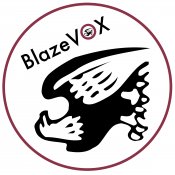 Genres Published:
Poetry, Fiction, Creative Nonfiction
Formats:
Online, Digital, Print, Audio, Video
Accepts Unsolicited Submissions:
Accepts Simultaneous Submissions:
Editorial Focus
"BlazeVOX is a haven for undervalued writers to convene with readers worldwide."
Tips From the Editor
Please see our online submission policy. Articles of submission depend on many criteria, but overall items submitted must conform to one ethereal trait, your work must not suck. However, all submissions will be reviewed and the author will receive feedback. We are human too. Please send your work.
Contact Information
Geoffrey Gatza, Publisher
Last updated: Oct 20, 2022