See writers who are published in this journal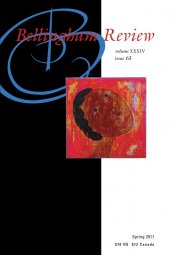 Genres Published:
Poetry, Fiction, Creative Nonfiction
Accepts Electronic Submissions:
Accepts Simultaneous Submissions:
Accepts Unsolicited Submissions:
Subscription Price:
$12 for 1 year, $20 for 2 years
Editorial Focus
Literature of palpable quality: poems, stories, and essays so beguiling they invite us to touch their essence. The Bellingham Review hungers for a kind of writing that nudges the limits of form, or executes traditional forms exquisitely.
Tips From the Editor
Please submit online, as we have gone paperless.
Contact Information
Dayna Patterson, Managing Editor, 2016-2017
Western Washington University
Last updated: Feb 17, 2017