Mary McMillan lives and works in Lake County, California. She has been facilitating the Writers Circle, a monthly free public writing workshop sponsored by the Lake County Arts Council and supported by Poets & Writers, for more than five years. She worked as a journalist for several years, and has written novels and creative nonfiction. In 2010, she was selected as Lake County's Poet Laureate and published This Wanting, a poetry chapbook, as well as the textbook Get Inside Your Relationships, related to her work as a marriage and family therapist. Along with a private psychotherapy practice, McMillan works as a mediator for family court and teaches parents in the court system how to communicate better with their co-parents.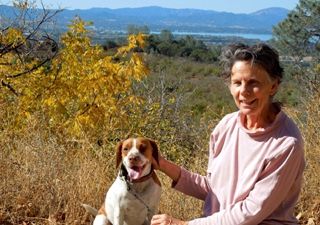 Since fall 2008, I have been funded by Poets & Writers to facilitate the Writers Circle, a free public writing workshop that meets once a month in the Lake County Arts Council gallery. Located in rural Northern California, in a valley isolated by mountain ranges, Lake County is both cursed with the problems that come with extreme poverty, and blessed by clean air and breathtaking scenery. Many artists, writers, and professionals retire in Lake County, where they can enjoy mountain trails and the largest natural freshwater lake in the state. Centuries ago, a now-dormant volcano created rich soil in the valleys—soil that now attracts small family farms growing organic produce, walnuts, pears, and wine grapes.

Since I took over the position of workshop facilitator, I've been fascinated and moved every month, as participants have brought in material often hoarded and hidden for years—and I have watched these writers bloom into confident authors of exquisitely funny, terrifying, or touching stories and poems.

Ten years ago, Fran Ransley began writing her memoir, This House Protected by Poverty, about being a welfare mother. This month she is preparing to submit the final version of her manuscript to Amazon's CreateSpace to print her first edition. Each month, when Fran read her stories of frustration laced with irony and wit, participants practically fell off their chairs laughing—appreciating the absurdity Fran saw in every situation— yet offered constructive criticism. For instance, when Fran rambled into interesting or thoughtful digressions, we helped her construct ways to weave those observations into her central narrative.


In 2010, participant Lourdes Thuesen started writing a short story about a developmentally delayed girl whose mother was addicted to methamphetamine. As we continued asking her questions about this mother and her history, Lourdes ended up writing a compelling novel with the addicted mother at the center of a complex web of relationships. And, recently, a middle-aged man in a wheelchair has joined us, keeping us enthralled with excerpts from his memoir, So You Want to be a Quadriplegic.

Over the years, I have offered an encouraging ear, and ensured a safe place for people to bring sensitive material and tell their stories. I have always felt impressed with the fine quality of both writing and listening that participants bring to the workshop, but even more, I have felt privileged to witness the rich and complex lives they have come to share.

Top: Mary McMillan and her dog, Rosie; credit: Patty Dalton. Bottom: The Writers Circle; credit: JoAnn Sacato.
Major support for Readings & Workshops in California is provided by the James Irvine Foundation. Additional support comes from the Friends of Poets & Writers.