This week's installment of Ten Questions features Tommy Pico, whose fourth book of poetry, Feed, was published in November by Tin House Books. Bounding across time, New York City, and the wider country, the main character of Feed, Teebs, is always in motion. He walks the New York High Line park with his ex; friends and family teach him how to cook, to cut an onion with "claw hands" and salt and oil generously; and all the while his soundtrack plays, skipping from Beyoncé to the Cranberries to Hank Williams back to Beyoncé. No matter the scene Teebs is attentive to both the sensory details of the moment and to the complex histories that exist beneath every surface. The High Line train once ran along "tenth / avenue, or death / avenue as it was known." At home, "an Indian reservation east of San Diego...the average age of death is 40.7 years old." A map, a recipe book, a letter, Feed is unceasingly various and unflinching. Pico traces out a full life in all its loneliness, intimacy, and pleasure. "No one corrals our day's chaos like Pico, who serves it up to us as some of the wildest verse the world has ever seen," writes Danez Smith. Tommy Pico is also the author of IRL, Nature Poem, and Junk. He is a two-time Lambda Literary Award finalist, the recipient of the Poetry Foundation Friends of Literature Prize, and a Whiting Award–winner. He also curates the reading series Poets With Attitude (PWA) alongside Morgan Parker and co-hosts the podcasts Food 4 Thot and Scream, Queen! Originally from the Viejas Indian reservation of the Kumeyaay nation, Pico splits his time between Los Angeles and Brooklyn, New York.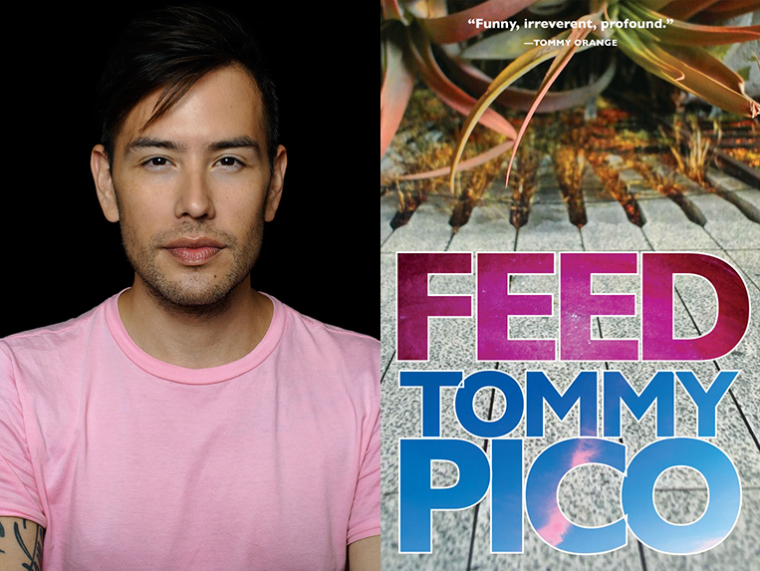 1. How long did it take you to write Feed? 
It took about a year? There were two separate three-month periods when I accumulated the "material" of the poem, the word-things, lol. I had created this whole curriculum for myself: I could only read food books, watch food TV shows and movies, listen to food podcasts, everything I ate I had to cook myself, and twice a week I had to make food with other people in their kitchens. Then a few months later I was commissioned by the High Line to write a long poem for them and I kind of mashed the two projects together. The shape of the poem took a little longer. I wanted it to have this curated feeling of wildness, curated to look like a wild garden, the way the High Line is.
2. What was the most challenging thing about writing the book? 
Writing sucks, I'm sorry but it does. Actually writing the book was probably the hardest thing about writing the book. It's also weird because this was the first one I wrote totally and completely after I already had a book published. IRL and Nature Poem were written pretty much before I even had a contract for the first book, and Junk was probably halfway done by the time IRL dropped in 2016. For the first time I felt a kind of expectation shouldering its way into my writing process. That was freaking terrifying. I tried to write in spite of that feeling. I'm also really, really good at denial so that kind of saved me.
3. Where, when, and how often do you write? 
When I was writing the poems, Monday through Thursday I wrote as much as I could without the editor voice. The goal was production. I wrote as much as possible and the only goal was that I couldn't think about what I was doing. Then Fridays I would slash and burn upwards of 80 percent of that week's word haul. Anything that stayed had to earn its keep. Saturdays and Sundays were for sandwich eating and sandwich eating only. 
4. What are you reading right now? 
EYES BOTTLE DARK WITH A MOUTHFUL OF FLOWERS BY JAKE SKEETS GOOD GOD READ THAT BOOK RIGHT FREAKING NOW PLEASE THANK YOU.
5. Which author, in your opinion, deserves wider recognition? 
JAKE SKEETS GOOD GOD JAKE SKEETS.
6. What is the biggest impediment to your writing life?
I don't really write poems or like "literature" anymore, lol. I've kind of sold out to write film and television. When you're writing poems and other weird stuff, people actually want you to be weird and different. That's my experience anyway. There isn't a ton of money in our industry. But writing for the screen? The same people who have always cut the checks are cutting those checks, and you as a writer are an investment. They have a lot of opinions about what you should make and how it should look and sound and feel. With budgets also come other practical concerns, like locations and sets and actors and wardrobe and all that. I wouldn't say it's an impediment, necessarily. It just adds a different constriction that I'm not used to, but I think it's making me a lil more wily and resourceful? Idk. I just finished a book tour and my brain is practically a Kahlua-soaked Kind bar. For the record I don't drink Kahlua, I'll leave that to my bff Lauren Wilkinson, but it sure is fun to say.
7. What is one thing that your agent or editor told you during the process of publishing this book that stuck with you? 
It was actually something that aforementioned bff Lauren Wilkinson told me about an agent who wasn't very good at their job. She told me, "You're the talent. They are lucky to have you. Any agent who makes you feel otherwise isn't someone you should be doing business with." Something like that. Tracks, tbh.
8. What is one thing you might change about the writing community or publishing industry?
If these writers actually got the kind of money that their labor justifies? It would be over for you hoes. But in the meantime, it would be nice to see more diversity not just in the authors, but also the editors, the publishers, the agents, the managers, the producers, etcetera. 
9. Who is your most trusted reader of your work and why? 
Ugh, this is going to sound so corny and self-important but it's actually me. I write with the idea that I'm going to perform it, at some point, so it has to feel like it could conceivably come out of my mouth, you know? In that respect my instinct has to guide the final thing. BUT! Some people who have told me things that totally changed my mind, perspective, selfhood, ethos, etcetera have been: Ariana Reines, Jericho Brown, Alexander Chee, Lauren Wilkinson, Roy Pérez, Pamela Sneed, and Bird Runningwater. Readers who have an ear for what the "piece" is supposed to be, not how they would write it.
10. What's the best piece of writing advice you've ever heard? 
I remember Ira Sachs telling me that the learning curve wasn't about submitting my voice to the medium, but making the medium submit to my voice. Something like that. That actually was the learning curve, and it maybe sounds egotistical but the process was really humbling. Also, one time the bff Lauren Wilkinson—I'm repeating her name so much because I'm going to ride her coattails into the sunset for sure—told me when writing, in so many words, to pursue the path of most conflict. It's not always been so good on my body, but it has been great for my writing.