This week's installment of Ten Questions features Sherwin Bitsui, whose new book of poetry, Dissolve, is out today from Copper Canyon Press. Bitsui was raised in White Cone, Arizona, on the Navajo Reservation, and Dissolve is imbued with Navajo history and tradition. The book is a long poem, an inventive and sweeping work that blurs the lines between past and present, urban and rural, landscape and waste, crisis and continuity, and leads readers on a dissonant and dreamlike journey through the American Southwest. Bitsui is the author of two previous poetry collections, including Shapeshift (University of Arizona Press, 2003) and Flood Song (Copper Canyon Press, 2009), which won the 2010 American Book Award in poetry. He lives in Arizona, where since 2013 he has served on the faculty of the Institute of American Indian Arts.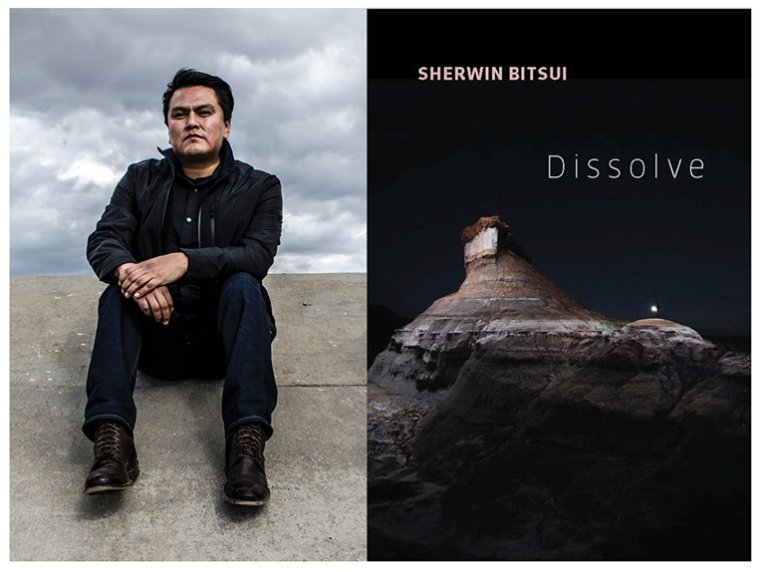 1. Where, when, and how often do you write?
I write best when I return from visiting my family on the reservation. The journey home feeds my creative process. I move between language, history, and worldviews—it's always place between that gives me the most insight into my creative process.
2. How long did it take you to write Dissolve?
Dissolve took about seven years to complete. Most of those seven years I spent revising the poem. It was a challenge to harmonize all its layers and dimensions. I'm excited for people to read and experience this work.
3. What was the most surprising thing about the publication process?
The care and attention Copper Canyon Press gave to my creative process. They've been wonderful—and it's not so much a surprise. I'm always grateful.
4. What is one thing you'd change about the literary community and/or the publishing business?
People should know more about the contributions Indigenous poets and writers have given to world poetry. There's so much work out there, but many voices are seemingly still invisible to the general public. I would love for the literary world to stay open to all the poets from my community and not focus on only a few "representative" voices. It happens time and time again. Poets Heid Erdrich and Allison Hedge Coke have recently edited great anthologies that may give the larger public a glimpse of the diversity and range of contemporary Indigenous poetry.
5. What are you reading right now?
I'm reading poems by a few contemporary Chinese poets I've been asked to translate this week for a translation festival in China. This work is entirely new for me and I'm excited to learn more about poetry from this part of the world.
6. Who is the most underrated author, in your opinion?
There are people I like who deserve more attention—I wouldn't call them "underrated," they are incredible in their own right and will receive the attention they deserve. People should read more Indigenous writers. They are writing some of the most innovative and important work in contemporary literature.
7. What trait do you most value in an editor?
I value an editor's ability to trust the poet. I'm fortunate to have great editors in who've been absolutely supportive of my poetic vision. I've never felt I had to compromise my artistic integrity. It's a wonderful thing when one's editor is also protective and supportive of one's body of work and creative vision.
8. What is the biggest impediment to your writing life?
Social media.
9. What's one thing you hope to accomplish that you haven't yet?
I hope I continue to feel I can innovate upon previous creations. I want to blend all my poetic and visual work into a singular expression someday. I don't know what this means. I'll find out when I get there.
10. What's the best piece of writing advice you've ever heard?
I'm grateful for the writers and artist who've advised me to maintain my creative and artistic integrity. My poems continue to reach new readers and I'm grateful they can trust that I will always want more from poetry than what is easily available and accessible. I want them to return to my books and feel they experience something new with each reading.