This week's installment of Ten Questions features Grady Chambers, whose debut poetry collection, North American Stadiums, was published this month by Milkweed Editions. The winner of the inaugural Max Ritvo Poetry Prize, the collection serves as a map to some of America's more overlooked places of industry, specifically within the Midwest and central New York—places "bleached / pale by time and weather"—and as an exploration of the grace we might find in such spaces. Born and raised in Chicago, Chambers received an MFA from Syracuse University, was a Wallace Stegner Fellow at Stanford University, and has received fellowships from the Norman Mailer Center and the New York State Summer Writers Institute. His poems have appeared in Adroit Journal; Forklift, Ohio; Nashville Review; Ninth Letter; New Ohio Review; and elsewhere. He lives in Philadelphia.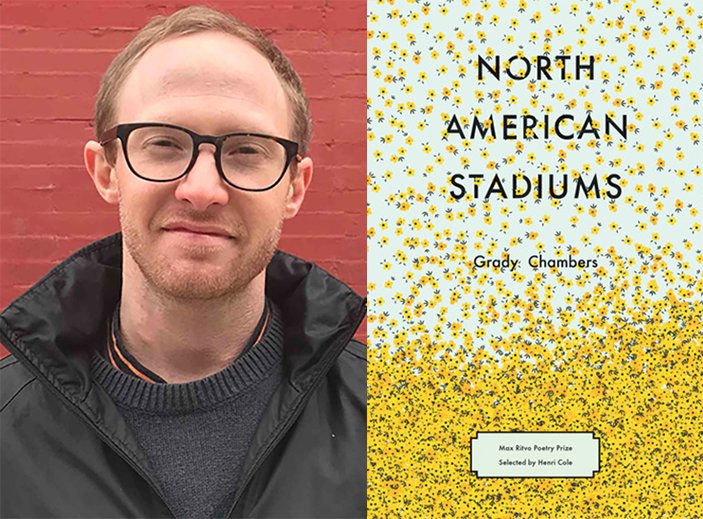 1. Where, when, and how often do you write?
My routine seems to change every year or two, but for the past six months or so my tendency has been to write once a week, typically on Sundays, in a block of hours beginning around eight or nine in the morning and ending in the early afternoon, and most often at a coffee shop not far from my apartment.
2. How long did it take you to write North American Stadiums? 
About six years, I think. The last poem in the book is the oldest, and I wrote the first draft of that poem on Memorial Day, 2012. It's an interesting question because unlike someone setting out to write a novel, there was no real destination in mind. I didn't (and probably this is true of writers of most books of poetry) set out to write North American Stadiums as such. The poems that comprise it are simply a curated selection from a much broader collection of writing that began in 2011 or so, when I began to be more strict with myself about making time to write. That the book contains the poems it does seems largely a result of my preferences and inclinations around the time I began thinking I should try and shape that growing stack of poems into a book. That was actually the scariest part in making this come together: the endless possible permutations of inclusion, exclusion, order; the fear of endless possibility.
3. What has been the most surprising thing about the publication process?
Probably the way it forces a different relationship to one's manuscript and writing. By the time I was copyediting the book for the third or fourth time I was so wholly attentive to formatting, spelling, margins—all the aesthetics of language on a page—that I didn't even feel like I was reading the poems anymore. Thanks to the awesome people at Milkweed Editions I had the unusual opportunity to create an audiobook version of the manuscript, and as I was traveling to the sound studio I was hit with a sudden fearful sense that I'd forgotten the sound and rhythm of the poems because I'd been so wrapped up in the copyediting. But that experience of doing the recording proved to be a great one: sitting down and reading it into a microphone, it was the first time that I was just able to simply read the book without looking at it through the lens of an editor. At that late stage, the book was in its final form, and all I had to do was read what was there. In doing so I felt again the rhythm and pacing and speed (or slowness) of the poems, not their marks and margins and format.
4. Where did you first get published?
The first piece of "creative writing" I wrote that actually ended up being bound between two covers were a few poems written as part of a high school English class. As I remember it, part of the final assignment for the class was for us to collectively make and bind a book (and of course produce the writing it contained). I'm fairly sure I used a phrase along the lines of, "from the lens of my itinerant being," and it still makes me cringe to think about.
5. What are you reading right now?
I just finished Kawabata's last and unfinished novel, Dandelions, and have been reading around in Turgenev's great Sketches from a Hunter's Notebook (though the title is sometimes translated differently) and Robin Becker's wonderful new collection of poems, The Black Bear Inside Me.
6. If you were stuck on a desert island, which book would you want with you?
I can already envision this answer producing audible groans in some readers of this interview, but in all honesty I'd probably bring Moby Dick. I love the music of so much of that book, the rhythmic and sonic propulsion of Melville's sentences, the astounding and way-ahead-of-its-time structure of his novel; and I think the book is deeply funny. I've mentioned how funny I find the book to a number of people, and that comment is usually met with a perplexed look, but I think there is great humor in the narrative distance between writer Melville and narrator Ishmael. Ishmael is, to me, a narrator who is totally over the top, and doesn't have the self-awareness to recognize that quality in himself. But Melville certainly knew it, and I can imagine him laughing as he wrote some of Ishmael's more grandiose meditations.
 
7. Who is the most underrated author, in your opinion?
I find it hard to say because I feel I have such a limited sense of how authors are perceived or rated by others. But a few collections that I think are amazing but that are maybe under-read—or at least don't seem to be read much among writers my age—are David Ferry's incredible book, Bewilderment, Ellen Bryant Voigt's collection of sonnets, Kyrie, and Adrian C. Louis's Ceremonies of the Damned. I don't think these writers are underrated, but with so much out there and with this increasing thirst, it seems, for what's new or what's next, these are three books that come quickly to mind that are very worth returning to, each one remarkable in its own way.
8. What is the biggest impediment to your writing life?
I sleep very poorly, and that can sometimes really knock my days off course. That said, sleeplessness has also been beneficial to my writing life as, like it or not, my mind seems to be receptive to degrees of fear or strangeness or anxiety in those sleepless hours that come back in sometimes productive or interesting ways when I write.
9. What trait do you most value in your editor?
I'm not sure I have the perfect phrase for it, but something along the lines of "generative inquiry." What I have in mind is a tendency on the part of a reader, when talking about a certain piece, to press on certain sections of the poem, to push me about the intent or meaning of a certain sequence. In doing so, they communicate their understanding of the poem and I am able to weigh it against my intention. This helps give me a sense of which sections or sequences feel flat or outside the orbit of images and ideas that the poem is working through and forces me to verbalize, and then try and put into words on the page, a sometimes originally cloudy intent.
10. What's the best piece of writing advice you've ever heard?
It's not quite advice, but the most important thing someone has said to me about writing, the thing that has had a tangible impact on my work, is what my friend Charif Shanahan (his collection Into Each Room We Enter Without Knowing is so good) said during a workshop a couple years ago. He asked the room, "What aren't you writing about, and why?" Though maybe to some it seems a fairly obvious thing to ask oneself, it had a pretty significant impact on me. It helped me think about and re-examine the ways I defined myself as a writer, and encouraged me to look directly at, and at least attempt to write about, things that daily occupied my mind but for various reasons I previously had overlooked, shied away from, or not thought to write about.