This week's installment of Ten Questions features Gabriel Bump, whose debut novel, Everywhere You Don't Belong, is out today from Algonquin Books. Claude McKay Love is an average, quiet kid growing up with his grandmother on the South Side of Chicago. One evening, he slips into the kitchen for a glass of water and overhears her discussing his problems—"sentimental, no backbone, adrift, unspectacular." Yet despite or because of these qualities, Claude is an excellent observer. He tells his own story with a quick, clear voice, carrying the reader through the quiet and loud details of day-to-day life in the South Side as a young Black man. As  he grows up, he begins to feel increasingly adrift—uncertain about how to think, act, or be amidst police violence and social activism. Faced with the decision to join his friends in a protest or seek shelter, he wavers, "I considered which side to seek out. I tried to consider what was at stake. The lines between right and wrong seemed blurred and indecipherable." When it comes time to go to college, Claude moves to Missouri, imagining he might leave the questions and concerns of Chicago behind. But home follows him in unexpected ways, and he continues to reckon with identity, nation, and belonging at every turn. "This book is astonishing," writes Maaza Mengiste. "You'll be smiling even as your heart is breaking." Gabriel Bump grew up in South Shore, Chicago. His writing can be found in the Huffington Post, Slam, Springhouse Journal, and other publications. He received his MFA in fiction from the University of Massachusetts, Amherst, where he was honored with the 2016 Deborah Slosberg Memorial Award for Fiction. He lives in Buffalo, New York.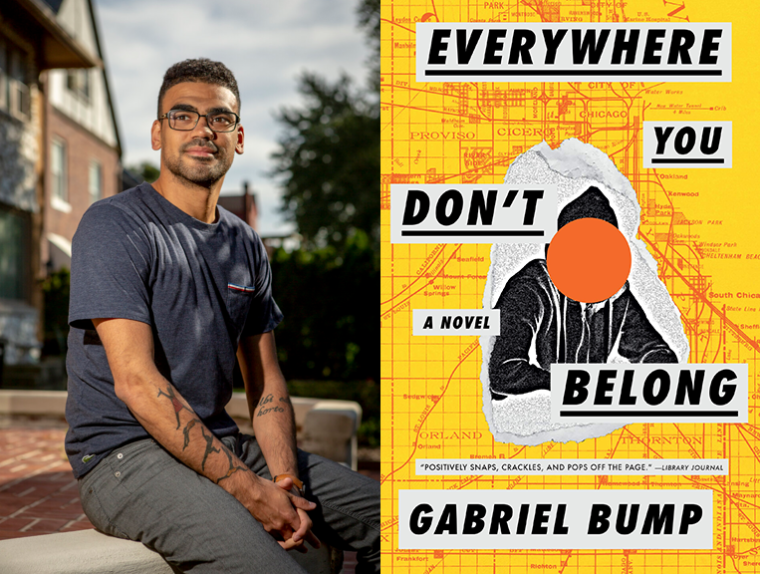 1. How long did it take you to write Everywhere You Don't Belong? 
I started writing this book in college, back in Chicago. One of the first chapters, "Fog," appeared with some slight differences in my undergraduate thesis. Of course at the time I thought I was just writing connected short stories, messing around with characters and setting, putting down words because I had to submit something for workshop. That was about eight years ago. I started viewing this as a novel when I got to grad school. The first draft was my graduate thesis. I fixed some typos a few months ago. It was a long process. 
2. What was the most challenging thing about writing the book?
Making the ending come together. The first hundred or so pages came out quick over my first semester in grad school. That's part one. And much of it is still the same. Part two, the final hundred and fifty pages, took years to get right. For me, Claude leaving Chicago, going to Missouri, was important. I didn't understand how important Chicago and South Shore were to me until I left, how different the rest of the world could feel. I imagine most people that grow up in cities and attend college in rural areas feel the same way. I wanted Claude to leave and experience that. The problem was replacing these Chicago characters I loved so much—Grandma and Paul and Janice couldn't come with him. It was a challenge. It was a fun challenge. If Claude doesn't leave Chicago, then we don't get Connie Stove. 
3. Where, when, and how often do you write?
About a year ago, when I first moved to Buffalo, I would wake up early and go write in Perk's Café and try to get five hundred words down. I work slow. I think about the sentences. I stare out the window. Getting into that rhythm, sitting in the same comfy booth, headphones on, listening to the same playlist on repeat—that was my most productive writing stint. Nowadays, since I moved away from that café, I sit at my dining room table before sunrise, make my own coffee. I miss that booth. Also, it's harder to write when a cat and dog are around to pet.
4. What are you reading right now?
Bubblegum by Adam Levin. So far, it's genius. I learned a lot from Adam at the School of the Art Institute of Chicago. I learned a lot from his first genius book, The Instructions. A lot of the humor and weirdness in my book isn't always a direct result of me trying to make people laugh, it's a direct result of me trying to write like Adam. Our first important teachers put handprints all over our work. I can look over Everywhere You Don't Belong now and notice when I'm doing an Adam Levin impression. You can preorder Bubblegum now. It comes out in the spring.
5. Which author, in your opinion, deserves wider recognition?
A few that I've worked with come to mind: Arthur Flowers, Noy Holland, Jeff Parker, Edie Meidav, Sabina Murray, Janet Desaulniers, Adam Levin, Padgett Powell. Their work has meant so much to me. Recognition, however, is a hard thing to quantify. 
From history, J. G. Farrell is my favorite writer I don't hear mentioned often. His book Troubles is like if P. G. Wodehouse and F. Scott Fitzgerald combined at the height of their powers and produced a farce set in post-World War I Ireland during the Troubles.
6. Would you recommend writers pursue an MFA?
If you love writing, don't know anyone in the industry, and want a chance to write a book, find mentors, and get published, MFAs still seem like the best option. You can always apply, see what happens, and make an informed decision based on campus visits, funding opportunities, and interviews with current students. It's a serious commitment with no guarantee that you'll get published. I guess a good metaphor is getting a college scholarship for basketball. The chances you'll make the NBA are slim. Still, if you love it, you'll learn a lot, make friends.
7. What trait do you most value in your editor (or agent)?
Kathy Pories (editor extraordinaire) and Alexa Stark (agent extraordinaire) are both honest and straightforward when something's not working. They're also compassionate. That compassion goes a long way. Alexa and I went through at least two major rewrites to the second half of my book. We cut and added about a hundred pages together. Editing is tough work for writers. With novels, editing could mean slicing off a third of the book, often more. Insecurity is omnipresent during the writing process, at least for me. If something feels great coming onto the page, I don't trust it. Sometimes, I just need a pep talk from Alexa and Kathy. It's nice to hear someone say, "Yes, this process is hard. Yes, you can do it."
8. What is one thing you might change about the writing community or publishing industry?
Writer Twitter can stress me out sometimes. I think that's because I'm bad at Twitter in general. How are all these people saying such smart and funny things all the time!? And where are all these followers coming from!? It sometimes feels like I'm in a workshop with millions of people arguing. And I'm trying to sneak in a witty comment. I'm not sure if I would erase Twitter. I think I just have to get better at it.
9. Who is your most trusted reader of your work and why?
It's a tie between Kathy and Alexa. My writing voice grew with Alexa. We started out together. She knows when I'm not living up to my potential. She's not going to greenlight something that isn't good. I send her all of my first drafts. We all need friends like that. 
I know Kathy isn't going to try and change my writing voice, even though I would if she asked. For the most part, she leaves my sentences alone. I do, however, have this tendency to move too quick plot-wise. Kathy can nudge my characters and plot in more coherent directions. If my sentences need a kick in the rear, Kathy can also provide that. We have similar tastes, want similar things from writing. She'll also bring me back on course if I get overwhelmed. 
10. What's the best piece of writing advice you're ever heard?
Jeff Parker, my thesis advisor at UMass, would stress that we should write to surprise ourselves. As writers, we must try to keep the reader on their toes. If you start getting bored, there's a good chance the reader will get bored. Surprise yourself; surprise the reader. The lesson still sticks with me. It's an old adage, one that has existed in fiction for a while. Still, Parker passed it along to me right when I needed it.