Careful readers of contemporary nonfiction anticipate the reviews of New York Times book critic Jennifer Szalai with a particular zeal. For the past three years her penetrating insight and nimble, original voice have informed readers of the newspaper not only about what's noteworthy in nonfiction today, but also about those books she regards as must-reads, those that simply pass muster, and, occasionally, those that aren't worth a reader's time at all. Szalai casts her astute critical eye on a wide array of subjects—the arts, culture, philosophy, history, science, technology, business, economics, national and international politics, and more. She's also a regular contributor to The Book Review Podcast. Before becoming a critic for the daily New York Times in January 2018, she worked for four years at the New York Times Book Review, where she edited both fiction and nonfiction reviews. She also edited Bookends, the back-page feature in which two writer-critics reflected on a literary question, for which she was a columnist in the fall of 2013 while also serving a stint as an opinion editor at the New York Times.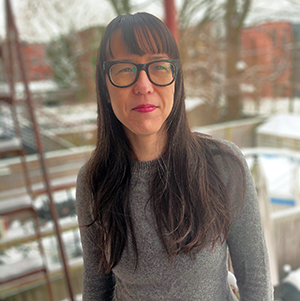 Szalai graduated from the University of Toronto, where she studied political science as well as peace and conflict studies, and received her master's in international relations from the London School of Economics. In 2001 she began work as a fact checker at Harper's Magazine, where she later rose to the rank of senior editor, leaving in 2010. She has freelanced for a wide variety of publications, including the New York Times Magazine, the Economist, New York magazine, Slate, the Nation, Lapham's Quarterly, the New Statesman, the New Yorker online, and the London Review of Books, and she has taught journalism and criticism at New York University and Columbia University.
How did you get your start as a literary critic?
I started writing book reviews pretty soon after finishing grad school. I wrote a few for a Canadian literary journal called Quill & Quire, and then I got an assignment from the British magazine the New Statesman, where I also wrote a couple of essays. I'll admit that I never really thought of book criticism as something I would get a chance to do for a living; my pieces were always written on the side, late at night or before going into the office in the morning. Then I started doing some freelance writing and editing after leaving Harper's in 2010. I wrote reviews, but again the job of "literary critic" seemed like something from the 1950s. I was aware that full-time critics still existed, but my immigrant parents already thought it was crazy that I had moved to New York to work at a literary magazine. Becoming an editor was a way of pursuing what I wanted while still doing something that sounded acceptably "professional." Even though my father was especially proud whenever I published something, he was always reminding me that it wasn't too late for me to go to law school. I remember him saying that he loved writing poetry as a young man, but he never entertained the idea of becoming a poet—though, funny enough, for a number of years before he went to college in his thirties, he was a jazz musician; he loved it, but it was a struggle. I definitely internalized some of that.
From 2014 to 2017 you worked as an editor at the New York Times Book Review, covering literary fiction and nonfiction. Can you talk a little about your job responsibilities during that time?
Like the other editors at the Book Review, I would go through the books I had been given to preview, decide which ones we should review, propose some possible reviewers, make the assignment, and then edit the review when it came in. The process at the Book Review was already well established, and even though I had already been in charge of a book review section at that point, the Book Review was a totally different institution with a different approach—understandably and necessarily so. At Harper's, the pieces in the Reviews section were really essays—long, discursive treatments not just of books, but of ideas, arguments, artistic trajectories, etc. I also had an entire month to work on each issue at Harper's, editing two 4,000-word essays and our New Books columnist. Moving to a weekly, where I was often editing three to five pieces a week, on top of making assignments and going through the flow of galleys, I realized what an absolute luxury that was. 
You, Parul Sehgal, and Dwight Garner are the trio of book critics for the daily Times. You exclusively cover nonfiction, with a distinct bent toward political books and books about contemporary social issues. What's the process by which the three of you decide which books to review? How far in advance of publication do you typically make these kinds of decisions, and how often do your plans change?
Our wonderful editor, John Williams, asks us to submit some possibilities of what we'd like to review about three months in advance. These lists change, whether because a couple of us are interested in the same book or we end up changing our minds. As you might imagine, there have been a lot of changes in the past few months, because of how publishers had to push pub dates around due to the pandemic. And then there are the embargoed books; I've reviewed a number of those, and sometimes we don't see text until pretty late, so that process is—I guess "exciting" is one way to put it.
How many review copies do you get on average each week? And of those how many are you able to review each month?
I'd say I received about thirty to fifty galleys a week before the pandemic; I've started to get physical galleys again, but for months almost everything was coming by e-mail, sometimes with an unsolicited NetGalley link—which was often helpful, because I could see something without having to issue a separate request—or a press release that I would then respond to by saying that I'd like an electronic copy of the book, so that I could take a closer look. I write a review a week—usually of one book, though sometimes I write a paired review of two.
What is your reading process like? How many books are you typically reading at any given time?
In any given week there is a lot of dipping into and skimming of multiple books. Once I've committed to reviewing a book, it will consume my time until I've finished it and then gone over it again, typing up my notes.
Is there ever anything from the publishing side—notable blurbs, a sizable advance, your relationship with an editor or publicist—that raises your interest in a particular author or book?
I would say no, or at least I hope not. But I'm only human, and if I hear enough people I trust say that something is going to be big, I'll probably be curious about it. That can also backfire though—curiosity leads to awareness, not necessarily to praise. 
Are you able to review many books outside of the Big Five publishers?
I have reviewed books from Polity Press, University of Texas Press, the Feminist Press, and the University of California Press, in addition to the bigger academic presses. I try to keep an eye on as many lists as I can.
What's your opinion of the value of negative reviews?
Can they be worthwhile? Oh, yes, absolutely. At the same time, my colleague Dwight Garner once talked on The Book Review Podcast about his philosophy, which I think is very wise: As a critic you don't want to be in a position of telling readers why they should hate this thing that they've never heard of. If you go after something, there has to be a reason for it. This is one of the obvious downsides of hype—a middling book that might have otherwise gone quietly unnoticed is now "highly anticipated."
Have you ever changed your mind about a book that you praised or panned earlier? Has a work of criticism ever changed your opinion of a writer's work?
I don't believe I have ever done a complete 180, from praise to pan or vice versa. I also don't think that a work of criticism has ever reversed a strongly held opinion I had, though it often enriches or tempers it, clarifying my thoughts about it, raising questions I hadn't articulated before.
Has social media been helpful at all in your role as a critic?
It has been helpful in terms of information about books on the distant horizon, for sure. It has also been helpful when it comes to giving me a sense of where the conversation is. Last year I wrote a Critic's Notebook about the word fascism, and it was occasioned by some of the things I was seeing on social media, with a few people saying that even though they were long hesitant to use the word, the time had come. Seeing that inflection point sent me back to the literature. At the same time, a lot of what passes for debate on social media is emotionally exhilarating but not especially illuminating. It pushes people's buttons in ways that can make the urge to react immediately feel overpowering. I'm not immune to that, even if I generally stop myself from acting on it. For me criticism is often the opposite of that impulse—slowing down to really deliberate and think through one's initial reaction. But there's also that emotional element that is a necessary part of the critical process, and I worry that social media can overstimulate it and scramble our instincts.
Other than your esteemed Times colleagues, which book critics—past or present—do you particularly admire?
Past: William Gass, Elizabeth Hardwick, John Leonard, James Baldwin. Present: Jane Hu, Lidija Haas, Jennifer Wilson, Lauren Oyler, Vinson Cunningham, Alexandra Schwartz, Katy Waldman, Christian Lorentzen, Namwali Serpell, Lauren Michele Jackson, Julian Lucas, Merve Emre…I could go on.
What books that you aren't reviewing are you most looking forward to reading this year?
Patricia Lockwood's No One Is Talking About This, Christine Smallwood's The Life of the Mind, the late Anthony Veasna So's Afterparties, and Colson Whitehead's Harlem Shuffle.
Michael Taeckens has worked in the publishing business since 1995. He is a cofounder of Broadside: Expert Literary PR.