Abha Dawesar is the author of three critically acclaimed novels: That Summer in Paris (Nan A. Talese, 2006), Babyji (Anchor Books, 2005), which was recently optioned for film, and Miniplanner (Cleis Press, 2000). Her most recent novel, Family Values, was published by Penguin Books India last year. She is the recipient of the 2006 American Library Association's Stonewall Book Award, a 2005 Lambda Literary Award, and a New York Foundation for the Arts fiction fellowship. She was short-listed for the Prix Médicis Étranger, Prix Femina Étranger, and the Prix Bel Ami in France. Her photography, drawings, and paintings have been exhibited in galleries and museums all over the world. She lives in New York City.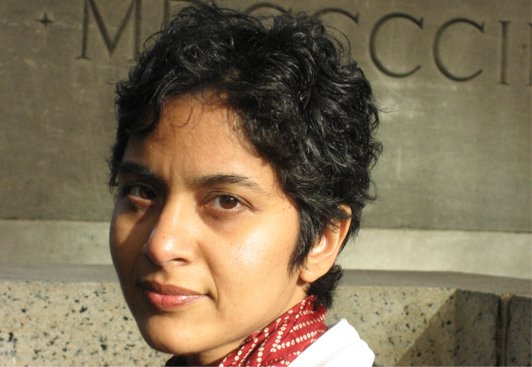 You take photographs, draw, and paint. Do you consider these other art forms as support for the writing or do you regard them all as separate endeavors, offering you different creative outlets as an artist?
The impulse for different art forms comes from different places; they are unique creative outlets that allow for diverse expression. There have been times when I'm working on a novel and have to actually forbid myself from doing art because it would eat too much time. A novel takes stamina and the rewards are delayed; art is appealing because it promises short-term fulfillment, and I'm afraid sometimes that I'll get so involved my writing will grind to a halt.
I do consider myself a writer first—partly because I have always written and also because it is my major activity in terms of the time I consecrate to it. I have memories of writing as early as the time I was eight. Photography came into my life later, in school; painting imposed itself in my twenties and drawing in my thirties. Video came to me eventually as an extension of photography. I sometimes mix these media. I am hoping to realize a project, time permitting, where I would use video along with photography and a lot of text to produce a whimsical but factual autobiography.
As a writer, what's your creative process like—from the initial inspiration to the revision process?
Each book has gone through a different process. With my most recent novel, Family Values, I knew that the palette of the book would be black, white, and gray rather than color. This was true from the very first pages all the way through until the last revision. With That Summer in Paris my prose was very much under the spell of the French language. I am currently working on a book that is structured like a spider's web (or the worldwide one, there are many similarities). Every short chapter seems to begin anew but adds to the story; the narrative returns again and again to its themes, though with each iteration the theme is changed. With this book, I actually drew the structure at different stages. In the beginning it seemed more like a book in three parts made of three interconnected anthills, but when the real structure was revealed there was a certain simplicity and logic to it that wasn't there with the other forms I had mapped. Sometimes, for me, writing is about making conscious what I already know.
Explain what you mean by describing Family Values as having a palette of black, white, and gray.
There is very little color in the book for a story that takes place in one of the world's most colorful countries [India]. In its mood as well as its moral ambiance, there are shades of black, white, and gray. While writing the book I internally thought of it very much in black-and-white images; when color appears it is exceptional. In a similar vein it eschews all exoticism: There are no saris and no spices, not even proper names. Detail lies instead in the microscopic description of sounds and odors, in human things related to our flesh that are universal. 
How does your photography play into your creative process as a writer?
In my first novel, Miniplanner, set in New York City, the speed of the narrative is akin to a hasty taxi ride; when a cab is in motion, some images take on a certain stillness and crystallize as photographs, while others escape memory. The novel was imagined in this vein with some of the more important scenes having an almost photographic quality.  
In That Summer in Paris photography became my major source of note taking. I photographed almost every corner that happens to come up in the narrative of my novel and used the photographs to evoke the place for me while I was writing. Instead of keeping notes by hand, I kept a visual journal. Using a notebook as an aid to the novel means that the experience has already been filtered at first through verbal consciousness. I found that maintaining a photo journal meant preserving the scene fresh for my novel. I, the person, didn't come in to verbalize, interpret, and intellectualize the scene—something that happens by default while writing. Instead, the novelist, while writing the narrative, saw the photos and was able to go back directly, perceptually, into the experience, which is to say, access the experience through the characters.
Photography is the only art form in which I have some training. I've not trained in the other visual arts or even creative writing. I started working a camera and developing my pictures while I was in school in India and my own memory works in still images and photos. When I evoke India, as I did in Babyji or Family Values, it's always this mental album that rolls in my head—still photographs in either black and white or color that capture street corners, faces, moments. My mind's eye plays less like a movie than a series of still images. The narrative of the novel provides the motion, the emotions, and the dialogue.  
Five Photographers Dawesar Recommends
Edgar
Elinor Carucci
Guillaume Herbaut
Anita Khemka
Anay Mann