Readings & Workshops intern JoAnna Schindler blogs about her experience attending the P&W–supported Los Angeles Poet Society (LAPS) Summer Poetry Academy taught by poet and musician Juan Cardenas at Tia Chucha's Centro Cultural and Bookstore. LAPS was founded in 2009 by poet Jessica Wilson Cardenas to fuse the diverse communities of poets, writers, booksellers, and publishers of Los Angeles County into a unified social and literary network.
Tucked into an ordinary strip mall in Sylmar, California, cohabitating with a Fresh & Easy and a Denny's, is one of the Angeleno literary community's most prized gems: Tia Chucha's Centro Cultural and Bookstore. Founded in 2001 by current Los Angeles poet laureate Luis J. Rodriguez and his wife Maria Trinidad Rodriguez, Tia Chucha's is a cultural arts center and bookstore that hosts workshops, classes, and events in literature, visual art, music, and dance to unify and empower the community.
This small but vital space is where P&W–supported instructor Juan Cardenas of the Los Angeles Poet Society (LAPS) and cofacilitator Jessica Wilson Cardenas immersed an intergenerational group of teens and adults in the session's theme: ekphrastic poetry—poetry written in response to another piece of art.
I identify as a fiction writer, but my poetry rarely reaches an audience, let alone the page! With their unmistakable enthusiasm for everyone's ideas and work, regardless of experience level, Juan and Jessica created a safe space for me and the other workshop participants to take some of our first steps into writing poetry.
We wrote down words, phrases, and images that intrigued us from a poem by Catherine Wagner, which included things like polar bears floating, red race cars, and lemon highlights. After sharing our notes, which to my surprise, varied a great deal from person to person, we wrote poems. Though inspired by the same work of art, our poems were diverse and distinct, ranging from descriptive to introspective, and formal to prosaic.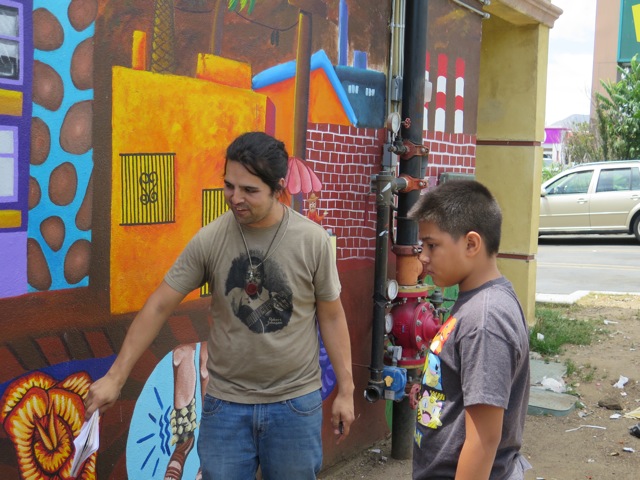 After easing us into ekphrastic poetry with the first exercise, Juan asked us to write two more poems: one inspired by the mural "Healing Through the Arts" on Tia Chucha's exterior, and another influenced by the live guitar playing of guest artist Nelson Alburquenque. Juan encouraged us to write anything that came to us, as long as it was an elaboration or response to the original piece of art.
Again, each of us unearthed from these same pieces of art vastly different stories and epiphanies: where I saw the haze of a Los Angeles sunset, Malayna, one of the adult participants, saw the clear blue skies of a rural spring; where I heard the echoes of a car stereo, my P&W colleague, Jamie, heard the cry of a hawk.
The LAPS workshop celebrated the cultivation of individual voice and vision. As we studied other artworks, the emphasis was not on what they were supposed to mean, but what we saw, heard, and felt. This was an especially refreshing change for me. Currently, I study literature at UCLA, where we are more often asked to unveil a work's historical, social, and political significance, rather than reflect on our personal experience of the piece.
As for writing poetry, this intergenerational workshop reminded me that in order to participate in any art form, whether or not it is one's chosen medium, we must first give ourselves the chance to—without restraint, without judgment. That is the first brave step.
Photo 1 (left to right): Workshop leaders Juan Cardenas and Jessica Wilson Cardenas hold up copies of Poets & Writers Magazine donated for the event, with P&W program associate Bee Spaethe. Photo 2: P&W-supported workshop leader Juan Cardenas with a teen student. Credit: Jamie FitzGerald.
Major support for Readings & Workshops in California is provided by the James Irvine Foundation and Hearst Foundations. Additional support comes from the Friends of Poets & Writers.