See writers who are published in this journal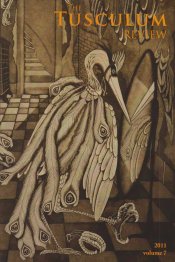 Genres Published:
Poetry, Fiction, Creative Nonfiction
Accepts Unsolicited Submissions:
Accepts Simultaneous Submissions:
Editorial Focus
The Tusculum Review is a community of professional and undergraduate writers. Student editors develop crucial skills in the art of literary publication. The editors seek and publish thought-provoking writing from a diversity of international voices and experiences — both established and emerging.
Tips From the Editor
We want writing that takes risks while still paying attention to craft. We are happy to see prose poems, stories that burst into poems, poems that burst into stories, etc. Mixing genres doesn't scare us. Of course boring, self-involved, over-inflated pap turns us off. We publish poems, fiction, nonfiction, and plays.
We also host a yearly contest for poetry and/or prose. The prize is a $1,000 purse and publication. For contest guidelines, visit the website.
Last updated: Aug 12, 2022