Best known for How I Became Hettie Jones (Grove Press, 1990), her memoir of the "beat scene" of the 1950s and 1960s, Hettie Jones is the author of twenty-three books for children and adults, including the award-winning Big Star Fallin' Mama: Five Women in Black Music (Viking, 1974) and Drive (Hanging Loose Press, 1998) which won the Poetry Society of America's Norma Farber Award. Since 1979, Jones has taught creative writing at various universities, and is now on the faculties of the New School's Graduate Writing Program and the 92nd Street Y Poetry Center. She was a member of the Literature Panel of the New York State Council on the Arts and subsequently served on the Board of Directors of Cave Canem. Jones was a NYFA Fellow in Nonfiction Literature in 2009, and a 2013-14 recipient of a Civic Engagement Grant from the New School as well as a grant from Poets & Writers for her work with New York City's Lower East Side Girls Club. Love H, a selection from her forty-year correspondence with the sculptor Helene Dorn, is forthcoming in spring 2016 from Duke University Press. Full Tilt, a collection of new and selected poems, and In Care of Worth Auto Parts, a collection of linked short fiction, are also forthcoming.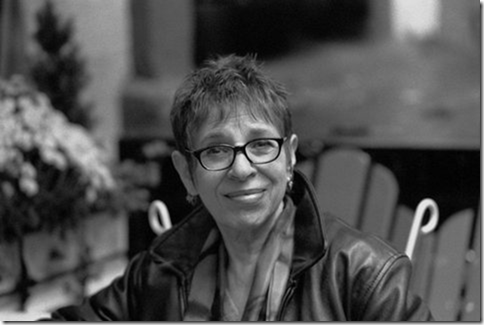 There's a danger, we've been warned, in knowing only "the single story." Given any chance to change—or at least improve—this situation, I've jumped at it. But I'm certain I couldn't have made those leaps without the help—and just as important, the validation—of Poets & Writers.
My first P&W-funded workshop took place in the late eighties at Sing Sing prison. A year later there were others, at the Bedford Hills women's prison and elsewhere. By then I'd also taught writing in colleges for a decade and knew that a lot of voices were still to be heard. So over the years I've traveled, sometimes long distances, not only to prisons but community centers and senior centers and libraries and any other place set aside for a writing workshop. I've met all kinds of people and brought out their words.
But I've also been lucky enough to come home to the Lower East Side of Manhattan. And now—double luck!—I've been able to teach here, in my very own neighborhood, to both make a difference and keep it in view at the Lower Eastside Girls Club Center for Community.
And what a sight I was treated to when I arrived! A brand new building with a planetarium—moon and stars and space! A bakery and a sewing machine room for hands-on skills! A recording studio! A performance space! I had signed on to teach for a semester, but knew I was hooked. And when I discovered that I'd be teaching not girls but their mothers, I was thrilled. A mothers writing group, my first!
We began with poetry because most inexperienced people come to a writing workshop to write there—just as they'd go to woodworking with similar expectations—and it's best to start short and provide a few relevant examples. But prose works, too (memoirs, personal essays). Such personal writing, as has been mentioned and I agree, should really not be called nonfiction but instead, non-poetry.
This past fall the Mothers Writing Group was into non-poetry. We wrote every Wednesday from 6:00-8:00 PM, in a large, high-ceilinged room on the second floor, with comfortable tables and chairs as well as a big couch where one of us might curl up and be alone with her pen and paper. Writing done, we read our work aloud, offered suggestions, and often were moved, sometimes to tears and always to applause.
Did I mention that, like any good mother, the Girls Club fed us snacks that were worthy of being called dinner?
Our chapbook of last fall's work is still in preparation, but Poets & Writers will have their copy when it's hot off the press. By the way, in our group photo below, the Airstream trailer we're standing in front of is a recording studio where we recorded our first podcast. A trailer on the second floor? It was hoisted in before the roof was on. The Girls Club Center for Community is high-minded!
Photo Top: Hettie Jones. Photo Credit: Colleen McKay
Photo Bottom: Hettie Jones, WGRL station managers Kiya Vega-Hutchens and Odetta Hartman, and the Mothers Writing Group. Photo Credit: Amelia Holowaty Krales
Support for Readings & Workshops in New York City is provided, in part, by public funds from the New York State Council on the Arts, and the New York City Department of Cultural Affairs, with additional support from the Louis & Anne Abrons Foundation, the Axe-Houghton Foundation, A.K. Starr Charitable Trust and Friends of Poets & Writers.