In 2020, as both the pandemic and social uprisings swept across the United States and beyond, twenty-one Black writers—mostly alumni of the MFA program at Rutgers University in Newark—came together to consider how they could best support one another, creatively and otherwise. Initially they gathered as a virtual reading group but as time passed they brainstormed how to reach Black writers outside of their immediate network. Their answer: Lampblack, a nonhierarchical community organization that, among its programs, offers direct aid to Black writers and publishes a magazine for "voices from the Black diaspora." According to its mission statement Lampblack "provides monetary relief for Black writers and strives to expand the reach of their work because critical engagement with Black culture is a necessary and radical act."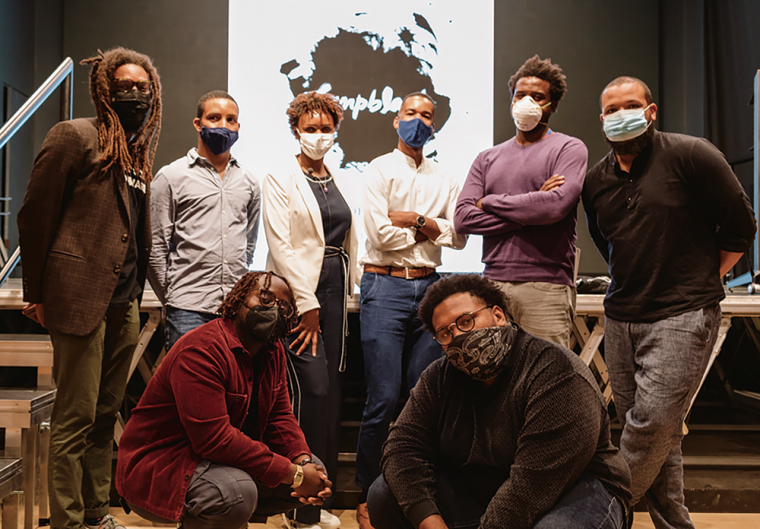 The organization began its public-facing work in earnest in April 2021 thanks in part to an anonymous pledge of $2,500. Via word of mouth, writers outside the Rutgers community learned about Lampblack's efforts and joined to help in whatever way they could. "There was a lot of energy around trying to figure out what writers were dealing with at that moment and what kind of aid we could provide," says Simeon Marsalis, a founder and executive board member. The volunteer team started to give $100 to one Black writer each week, using a brief, non-merit-based application and a random selection process, guided by the idea that such direct aid will advance Black literature itself. Writers who aren't chosen for the week are reentered for the next week. The funds have no restrictions and aim to act as an antidote to institutional grants that "come too late and often exploit our labor," the website states. Writers who are eighteen years of age or older and live in the United States are eligble. 
"One of the primary goals in founding Lampblack was about the very real material needs of Black writers that I think are often glossed over when we discuss literary lives and literary careers and community," says writer and translator Paige Aniyah Morris, who helps edit Lampblack, the organization's magazine. "We wanted to find a way to directly support Black writers without that structural gatekeeping. You don't have to be a winner of a fellowship. You don't have to be in an MFA program."
Lampblack initially committed to dispensing funds through the end of 2021—between April and December, thirty writers received aid—but always operated with the goal to extend the program into future years. In April, Lampblack launched a public fundraiser through the platform ioby, which specializes in community-focused projects. By the end of July, backed with the initial $2,500 pledge and with the help of a matching donation program, the team met their goal to raise $10,000. Most recently, in November 2021, the team launched another ioby fundraiser with a goal of $30,000 and, as of this writing, has raised just over $15,000.
These funds are helping Lampblack pursue its 2022 goals: Distribute $10,000 to Black writers, publish Black writers in Lampblack, expand community programming, and hire three part-time employees to run social media, disburse funds, communicate with aid applicants, and lead its virtual reading series, Lit Lantern.
While Lampblack issued some contract payments in 2021, the part-time positions will allow the organization to give three individuals a steady source of income. "We want to pay all Black writers," Marsalis says, noting that the ability to volunteer is a privilege. "Some of us work full-time jobs; some of us work part-time jobs. We're in various levels of employment, so need is more serious for some of us than it is for others."
The organization's annual print magazine, Lampblack, offers another avenue for the group to celebrate Black writing and further their reach. The team launched the first issue, the Founders' Issue, at the Center for Fiction in New York City in October. Eleven founders contributed nonfiction, fiction, poetry, and translation to the volume, and 30 percent of the proceeds went to the direct aid program. Future issues will welcome submissions from all Black writers.
Morris describes the editorial ethos of the magazine as "a different approach to reading Black literature—not so much in the siloed fashion we've often seen where there's the one representative Black writer in an issue of a literary journal or the same few Black writers who we've been celebrating…. We want to make it less of a tokenization of Black writing and more of a celebration."
Alongside its direct aid program and journal, Lampblack is also reaching out to a wider community via public events. Last year, in addition to the reading series Lit Lantern—which ran from April to October—the organization held a summer workshop series. In 2022, Lit Lantern is back along with other original programming, including an in-person event with Source of Knowledge in Newark, New Jersey, and a virtual interview series called the Inky Bulb led by poet Attorious Renee Augustin.
"Coronavirus has made us embrace an online community," Marsalis says. "Paige is in South Korea right now, Bronwyn [Douman, a board member] is in South Africa. We really are trying to expand and be about our diaspora, be about our Blackness. And to do that we've had to embrace, and want to embrace, an online space."
Launching and maintaining these ambitious programs has been no easy feat, but the team stays organized via virtual meetings and Google Docs. Marsalis says they are also in the process of applying for 501(c)(3) status and look forward to becoming eligible for grants limited to registered nonprofits. 
In the meantime, Lampblack's members want to expand the community and welcome anyone who wants to be involved. "There's a place for all types of engagement," says Morris. "It doesn't have to be that everyone has to volunteer their labor or donate money. Take part however you see fit. If you want there to be a place for you, there is a place for you."   
Arriel Vinson is a Reese's Book Club LitUp Fellow who writes about being young, Black, and in search of freedom. Her writing has appeared in Kweli, Catapult, the Rumpus, and other publications.