On the ninth anniversary of poet Lucille Clifton's death, her eldest daughter, Sidney Clifton, felt a strong desire to be back in her family's former home in Baltimore. She decided to call the owner, who told her the house had been put up for sale that very day, February 13, 2019. A reunion with the house seemed fated, and Sidney Clifton jumped at the chance to buy her childhood home. Soon the space will once again be filled with the energy and cheerful noise of artists at work and in conversation as the poet's family develops the Clifton House as a place where new generations of artists can flourish.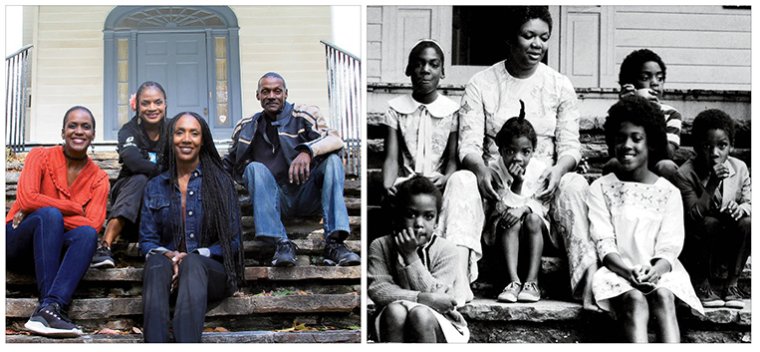 In 1968, Lucille Clifton and her husband, Fred, a professor and activist, bought the house at 2605 Talbot Road and moved in with their six children. It was there that Lucille Clifton launched her prolific poetry career. Her first collection, Good Times (Random House, 1969), was published a year after the family moved in; Good News About the Earth (Random House, 1972) and An Ordinary Woman (Random House, 1974) followed soon thereafter. While living at the house, she wrote countless poems, a memoir, and children's books, earned fellowships from the National Endowment for the Arts in 1970 and 1973, and began her term as poet laureate of Maryland in 1979.
The Clifton family lived in the house in the Windsor Hills neighborhood for almost eleven years before they lost the home to foreclosure. Buying the house last year was profoundly meaningful for Sidney, because with both parents and two of her siblings gone, the years they shared there represent a moment when her entire family was alive and together, happy and whole.
At first her only plan for the home, she says, was "the reclamation of my family's history. It felt like a triumph for my family to reclaim a house and a history that was lost." But as she reminisced about watching her mother write award-winning poetry at their dining table and her father create sculptures and paintings, she knew she wanted to do something to honor their legacy. In the seventies her parents threw bustling social gatherings, at which writers, artists, and activists were welcomed and supported in their creativity. Sidney and her siblings mingled with the children of her parents' friends to the sounds of percussionists drumming while the adults ate and talked about how they were making a difference through their work. 
Today Sidney envisions a second life for the home as a creative safe space for emerging and established writers and artists to participate in residencies, in-person and virtual workshops, and cultural events, as well as to display art in gallery space. "This house will be for a wider community what it was for my family and me when we were growing up: a place for artists," she says.
Sidney, an Emmy-nominated producer of animated and live-action content, also plans to draw on her more than twenty years of experience to develop a series of cultural conversations between emerging and established artists. She's not the only Clifton involved in the work of bringing this project to fruition; it is a multigenerational family affair, with her siblings involved in the project and plans for their children, artists in their own right, to possibly teach workshops and show their art.
With the house scheduled to open in 2021, the Clifton family aims to support and launch the careers of artists as they experience and learn what it is to live a creative life. Future residents and participants are likely to be inspired by Lucille Clifton's illustrious career, built throughout the years she lived at the residence, during which she published numerous collections and won prestigious awards and accolades, including the National Book Award for Blessing the Boats: New and Selected Poems, 1988–2000 (BOA Editions, 2000), the 2007 Ruth Lilly Poetry Prize, and, posthumously, the Frost Medal from the Poetry Society of America for a "distinguished lifetime service to American poetry." (In September, How to Carry Water: Selected Poems of Lucille Clifton, edited by poet Aracelis Girmay, was published by BOA Editions.)
Initial funding for the Clifton House was provided in August 2019 by the V-Day campaign, which supports programs to end violence against women and girls, including arts programs and organizations. In July 2020 the Clifton House received a grant from the National Trust for Historic Preservation's African American Cultural Heritage Action Fund, which strives to preserve African American history in order to tell a more rich and complete story of the American experience. The grant will support staffing and in-person and virtual program planning. 
During a tour of the home with the African American Cultural Heritage Action Fund team, Sidney opened a closet door and discovered her name written on the wall from when she had been practicing cursive as a child. It seemed another portent that she was meant to share and preserve the family's legacy. 
Writers and artists interested in participating and developing Clifton House programs may contact Sidney Clifton at cliftonhousebaltimore@gmail.com.
LaToya Jordan is a writer from Brooklyn, New York. Follow her on Twitter @latoyadjordan.