Among the many new books published each season is a shelf full of notable anthologies, each one showcasing the work of writers united by genre, form, or theme. The Anthologist highlights a few recently released or forthcoming collections, including A House Called Tomorrow: 50 Years of Poetry From Copper Canyon Press (Copper Canyon Press, January 2023).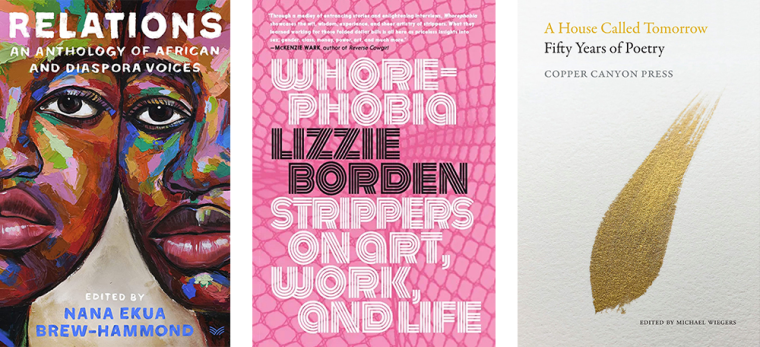 Writer and editor Nana Ekua Brew-Hammond pitched the book that would become Relations: An Anthology of African and Diaspora Voices (HarperVia, January 2023) in August 2020, five months into the global COVID-19 pandemic that kept her grounded in New York—unable to visit Ghana as she usually does each year to visit her parents or attend the Pa Gya! literary festival in Accra. In assembling this volume of stories, essays, and poems by African and Africa-descended writers, Brew-Hammond aims to transcend physical borders to create "a meeting place for these voices connected by shared color or continent, but often separated by country, language, history, experience, or outlook," she writes in the introduction. Contributors explore an array of subject matter, from family relationships to politics across the African continent and beyond. In her story "Finding Decartes," Reem Gaafar offers a portrait of a downtrodden teacher in Khartoum, Sudan, who finally decides to "fight back" against the government's poor treatment of educators and students. In "Fulbright," Rémy Ngamije narrates the tale of a Namibian Fulbright fellow headed to "Trump's America," where he worries that his skin color will mark him for police officers' "target practice." In his essay "The Killmonger Doctrine of Color and Humanity," Joe Robert Cole, one of the writers of the Black Panther films, contemplates the challenges of uniting the African Diaspora in a shared movement for racial justice: "A central question in Black Panther was 'What does it mean to be my brother's keeper?'" he writes. "The isolationism of Wakanda fed Killmonger's pain in the film. In the real world, isolation from one another limits what each of us can accomplish standing on our own." Brew-Hammond's anthology offers an alternative to such isolation: "a safe space for the kind of contemplation, confrontation, celebration, and revelation that characterize the most profound relations," she writes.  
When filmmaker Lizzie Borden released Working Girls—now considered a canonical work of cinema, included in the Criterion Collection—her "cover story" was that the 1986 film about a New York City brothel was inspired by the experiences of "a friend." What drove Borden to lie, she writes in the preface to Whorephobia: Strippers on Art, Work, and Life (Seven Stories Press, December 2022), was the stigma attached to sex work, even among so-called feminists. But with Whorephobia, editor Borden makes no apologies for the labor that she, many of her artist friends, and working-class people worldwide have performed to achieve financial security in a precarious economy. Here Borden spotlights one corner of the sex-working world, tipping the hat to strippers' "lives of camaraderie and celebration, joy, pride, despair, frustration, self-doubt, and fear—lives that are complicated, contradictory, and bold." Each personal narrative—from famous writers and artists like Kathy Acker, Chris Kraus, and Cookie Mueller as well as emerging voices—is paired with an interview, conducted by Borden or a fellow stripper-writer to convey a "sense of community," Borden writes. Essays recount life at strip clubs and venues from 1970s Manhattan to 21st century Los Angeles, with a diverse set of authors exploring the work of stripping itself and its intersections with their race, disability status, or other personal identities. Whorephobia profoundly documents "the landscape of stripping, the camaraderie and artfulness [of strippers], without delighting in our demise...our small and large triumphs, our rage, our sadness, our hope, and our love for stripping," writes sex worker, author, and doctoral candidate Antonia Crane in her introduction.  
In 1972 a group of literary friends founded Copper Canyon Press in Denver, Colorado, buying equipment to publish the press's first book, Gerald Costanzo's Badlands, in 1973. Four hundred titles later, now based in Port Townsend, Washington, the nonprofit press has become one of the most revered poetry publishers in the world. That rich history is documented in A House Called Tomorrow: 50 Years of Poetry From Copper Canyon Press (Copper Canyon Press, January 2023), edited by the press's executive editor Michael Wiegers. The table of contents is an eye-popping honor roll of beloved verse makers, living and dead: Jericho Brown, Victoria Chang, Lucille Clifton, Natalie Diaz, June Jordan, Ted Kooser, W.S. Merwin, Pablo Neruda, Gregory Orr, Brenda Shaughnessy, Arthur Sze, Ocean Vuong, C.D. Wright, Dean Young—to name but a few of some of the biggest stars in poetry's firmament included in this volume. Wiegers's introduction offers a look back at the press, contextualizing its emergence in an era at once profoundly different—"no Google, no Amazon, no Apple"—and, at its core, the same: "Then, as now, young writers wanted change, wanted something different, and wanted to be heard." In the poem for which the anthology is named—from his 2020 collection Not Go Away Is My Name—Alberto Ríos imagines the future as "a house called tomorrow." He writes: "What we bring, finally, into the new day, every day, / Is ourselves. And that's all we need / To start." Read this volume, organized by decade, to hear the chorus of voices Copper Canyon has gathered to sing across half a century—and hopefully will continue to gather for many tomorrows to come.