This week's installment of Ten Questions features Jo Ann Beard, whose latest book, Festival Days, is out today from Little, Brown. In the nine essays that make up Festival Days, Jo Ann Beard renders her own life and the lives of others with characteristic precision. In "Werner," she inhabits the story of a man who narrowly escaped an apartment fire, shifting from the smoke-filled room to his childhood memories as if they were her own. In the title essay, she weaves scenes from India, Arizona, and elsewhere to tell the story of losing a close friend to cancer. With each piece, she presses the essay form into new, more intimate territory. "Festival Days is an artistic triumph—vividly peopled, elegantly written, and full of surprises," writes Adrienne Brodeur. "Each essay and story is an electrically charged tale of loss and partial redemption." Jo Ann Beard is also the author of The Boys of My Youth and In Zanesville. Her writing has appeared in the New Yorker, Tin House, and Best American Essays, among other publications. The recipient of awards from the Whiting Foundation, the John Simon Guggenheim Foundation, and the New York Foundation for the Arts, she teaches at Sarah Lawrence College.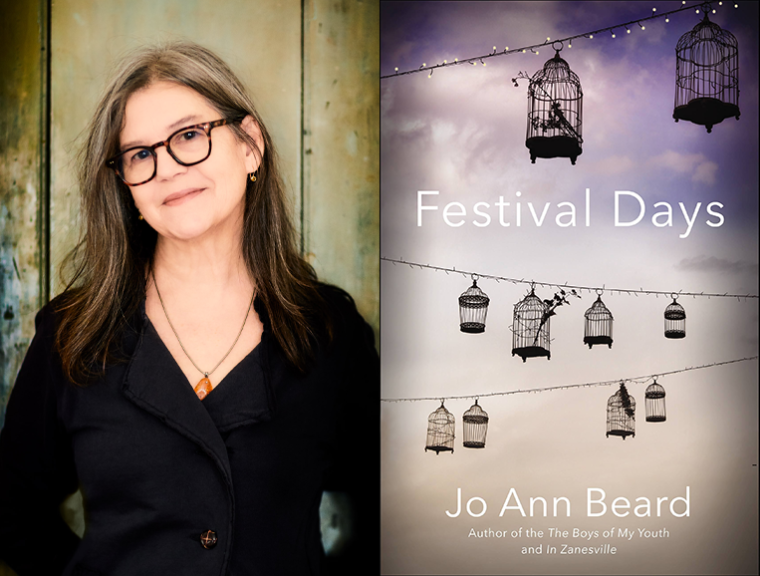 1. How long did it take you to write Festival Days? 
Festival Days was written over the past twenty or so years—essays and stories that appeared in magazines and literary journals, and a new, novella-length piece that gives the book its title.      
2. What was the most challenging thing about writing the book? 
My challenge is that everything has to go silent for me to hear my own thoughts and find inspiration, and the current world isn't designed for that. It wants us to always be listening to, or scrolling through, someone else's thoughts. For me, the drone of that, visually and aurally, must be manually turned off. In the silence that ensues, windows have to be stared out of, floors have to be paced, and then eventually, like a banner, the imagination unfurls itself.
3. Where, when, and how often do you write?
By necessity I am a teacher first and a writer second, and since teaching is its own consuming creative activity, the writing only occurs during breaks. But those are plentiful enough that I can't complain. Although, of course, I do.   
4. What are you reading right now? 
I'm reading books about consciousness, some good and some not so, some understandable and some beyond my ken. Which is good—once you leave the realm of your own understanding, you bump into some amazing things. Like cephalopods and fungi and Mexican medicine men.
5. Which author, in your opinion, deserves wider recognition? 
Some authors, no matter how much recognition they get, deserve even more. So, Lynda Barry.
6. Would you recommend writers pursue an MFA? 
I believe in graduate school, and not just as a teacher, but as a former student. Not because it confers knowledge, though it does, but because it's difficult as an artist to claim your intention and your will to create. Whereas the rest of the world remains skeptical, graduate school takes it seriously and tries to help. Just try not to go into debt to do it—the rewards for a writer are immense, but they are rarely monetary.
7. What is one thing you might change about the writing community or publishing industry? 
I have close friends in the publishing industry, and they are as deeply committed to books as any writer I have met along the way. They have a lot of power over writers, of course, but very little power over readers, so it's a marriage of convenience. As with all marriages, there are things we would change about our partners. That's my way of not answering the question.
8. Outside of writing, what other forms of work were essential to the creation of Festival Days?
Teaching and the reading of other people's writing, which is what makes mine possible.
9. Who is your most trusted reader of your work and why?
I write with, and for, Mary Allen, an essayist in Iowa. Every piece in Festival Days emerged from our long-distance writing friendship that has stretched from the early nineties to now. We listen and tell each other what we like, and the key to how we help one another is that we like everything. It's like getting a massage—when you leave, everything hurts again, but while you're there, you've never felt so good.   
10. What's the best piece of writing advice you've ever heard? 
A long-ago student named Zac said about an essay we were workshopping: "I'm looking at a circle where I'd like to see a sphere."