In Pardon My Heart, Marcus Jackson's second poetry collection, the speaker finds many kinds of love—love that is joyful, but also love that is complicated by economic hardship, race, and time. Jackson started many of the poems in blank verse or as Shakespearean sonnets but eventually branched out to other forms. "I began and finished most of the poems with a hope to maintain a lyric urgency and a narrative invitingness," he says, "so that love, pain, and the forces of the world might rotate through the combination of story and sound." Jackson published poems from the book, which was released in April by TriQuarterly Books/Northwestern University Press, in the five journals below, as well as in the New Yorker and the American Poetry Review, among others.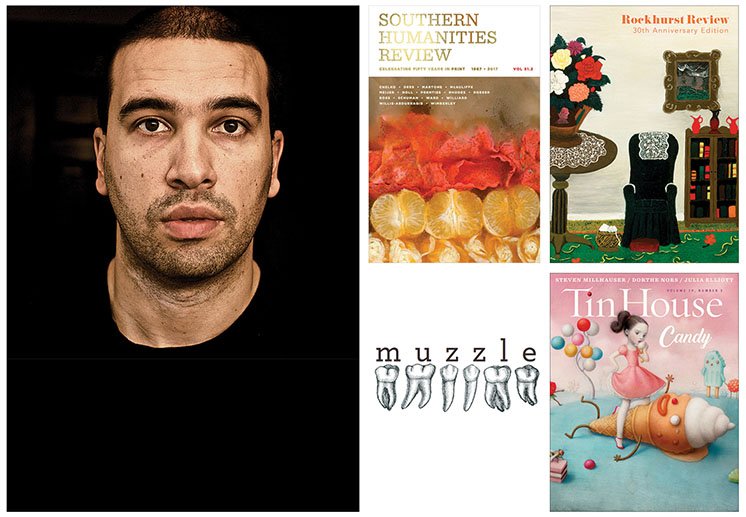 "I've always enjoyed the exuberance the journal has for poems that reach directly out to readers with a duality of clarity and necessity," says Jackson about Glass: A Journal of Poetry (glass-poetry.com/journal.html), which published his poems in 2011 and 2018. The monthly online journal, which is named for Toledo, Ohio—known as the Glass City—where Jackson grew up and the journal is based, publishes poetry that "enacts the artistic and creative purity of glass." Editor in chief Anthony Frame notes that Jackson's poetry, which he describes as in the vein of Philip Levine and Sharon Olds, exemplifies much of the journal's aesthetic. "Marcus's work isn't trying to follow any trends," says Frame. "He accomplishes a beauty through carefully constructed language that looks and sounds like conversational speech." Submissions to the journal—including a new series of poetry portfolios by emerging writers—will open in June via e-mail.
Jackson says he was drawn to both Glass and the print quarterly Southern Humanities Review (southernhumanitiesreview.com) for being great spaces for writers of color and other underrepresented communities. Established in 1967 at Auburn University in Alabama, Southern Humanities Review publishes poetry, fiction, and nonfiction. The journal's recent issues include pieces such as "Hat Trick," a series of micro-essays on the political history of the hat by Michael Martone, and "The Last Supper," a poem by Marci Calabretta Cancio-Bello about a last meal shared by a father and child. General submissions for the journal will open in September; submissions for the annual Auburn Witness Poetry Prize, given for a poem of witness, are currently open with a $15 entry fee until June 1 via Submittable. The winner will receive $1,000 and publication; Camille T. Dungy will judge.
"I've always loved Tin House for its adventurousness, its diversity of contributors, and its stunning physicality when actually held in the hands," says Jackson. Launched in 1999 as "the singular love child of an eclectic literary journal and a beautiful glossy magazine," according to the website, print quarterly Tin House (tinhouse.com) has maintained this sense of adventure and irreverence through a commitment to discovering new writers and issues with themes on topics such as candy and the science fair. Tin House publishes poetry, fiction, and nonfiction as well as reviews of overlooked books in its Lost and Found section and food writing in its Readable Feast section. Submissions will open via Submittable in September.
Like Tin House, Muzzle Magazine (muzzlemagazine.com) exudes a playful attitude. "With healthy doses of both reverence and mischievousness toward literary minds that have come before us," write the editors on the website, "we are obsessed with asking what beauty can and will be." Published twice a year online, the poetry journal was started by poet Stevie Edwards in 2010 and, as Jackson says, "excels at encompassing bold, needed poems when it comes to subject matter and cultural/political inquiry." As the editors write in their call for submissions, "Institutionalized hate, discrimination, exploitation, rape, violence, tangible and intangible theft, and other abuses of power are older than this country. We are seeking new answers to old questions and old answers to new questions." Recent contributors have touched on everything from transgender media representation to the work of Erica Jong. Submissions for the journal, which also publishes interviews and book reviews, will open on August 1 via Submittable. 
Jackson published three of his poems—one about delivering pizzas, another about being patched up after a fistfight, and another about observing a couple arguing—in the Rockhurst Review (rockhurstreview.org). The print annual, which is edited at Rockhurst University in Kansas City, Missouri, publishes poetry, fiction, and nonfiction. Editor Elizabeth Barnett reports that the staff is in the process of making issues of the review, which recently celebrated its thirtieth anniversary, available digitally. "Barnett and the students who also edit and produce the publication have done marvelous work of including poetry from across the country and from across the spectrum of on-the-page aesthetics," says Jackson. Recent contributors include poets Donika Kelly and Kathryn Nuernberger and prose writer LaTanya McQueen. Submissions will open on September 1 via e-mail.    
Dana Isokawa is the associate editor of Poets & Writers Magazine.