When poet Sue Landers started in July as the new executive director of Lambda Literary, the Los Angeles–based nonprofit organization dedicated to supporting LGBTQ writers and literature, it represented a kind of homecoming. More than twenty years ago, when Landers was an MFA student at George Mason University, she worked at Lambda Rising, the bookstore in Washington, D.C., where the seeds of Lambda Literary germinated. In 1987 the bookstore's owner, L. Page "Deacon" Maccubbin, published the first issue of the Lambda Book Report, which included author interviews and reviews of books by LGBTQ writers. He also launched the Lambda Literary Awards—"the Lammys"—to honor queer writers. These initiatives grew into Lambda Literary, which celebrates its thirtieth anniversary this year.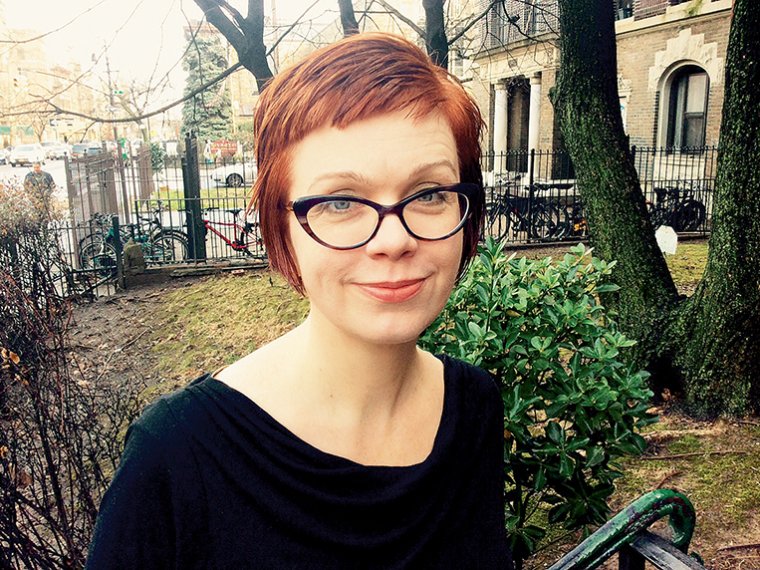 Landers takes the reins of a vibrant organization with an important mission: to ensure that a diversity of queer voices are heard and that LGBTQ stories become, and remain, part of the human story. Despite the widespread media visibility of the LGBTQ community, queer literature—especially by nonwhite and transgender writers—still struggles for attention among mainstream publishers and audiences. "Having our stories told and cherished really can save lives," says Amy Scholder, president of the Lambda Literary board of directors. "So often bullying depends on the oppressed feeling isolated. Our literature is a way for people not to be isolated." 
Before coming to Lambda, Landers worked for more than a decade in education at the College Board. She was chosen for the new role because of "her passion for the LGBTQ literary community and her ability to articulate that passion," Scholder says. Landers has also published three books of poetry, most recently Franklinstein (Roof Books, 2016). "It was very appealing to us that she understands from personal experience what it means to be a writer in the world." 
Landers succeeds Tony Valenzuela, who stepped down after nine years as the organization's executive director. "The ten-year mark is enough time for a director," Valenzuela says. "I didn't want to get stale—I didn't even want to approach that." Whereas Valenzuela expanded and professionalized the organization, introducing new programs and increasing the staff from just himself to a team of six, Landers hopes to make each program larger and more inclusive. "Tony has grown the organization in ways that I'm awed by," Landers says. "I'm looking to continue his work and expand it, so that more people can participate, particularly queer and trans people with disabilities, and queer and trans people of color."
The organization's reach has certainly expanded since its early days. The Lammys, which began as a small affair in 1989, has since grown into a large-scale annual awards ceremony held in New York City. The thirtieth annual awards, which were held in June, counted notable writers Roxane Gay, Alison Bechdel, Edmund White, and Rebecca Solnit as award winners and presenters. The organization also publishes an online journal, Lambda Literary Review, an evolution of the Lambda Book Report, and Nepantla, a journal dedicated to queer poets of color. In addition the organization has launched three new programs: LGBTQ Writers in Schools, the Writers Retreat for Emerging LGBTQ Voices, and Lambda LitFest. The LGBTQ Writers in Schools program brings authors into New York City public school classrooms to discuss their books and promote understanding and acceptance of difference. The program was founded under Valenzuela's leadership in 2012, and Landers hopes to expand it to other school districts across the United States; it is currently in development in Los Angeles.
The Writers Retreat for Emerging LGBTQ Voices, founded in 2007, convenes a diverse cohort of queer writers in five genres—fiction, nonfiction, genre fiction, playwriting, and poetry—each summer in Los Angeles for a week of workshops and craft classes taught by established authors. This year the faculty included novelist Chinelo Okparanta and journalist Benoit Denizet-Lewis. Novelist Justin Torres was a student in the retreat's first year; novelist Nicole Dennis-Benn and poet Chen Chen were more recent participants. "Many of these writers go in unsure about their ability, and they come out transformed," Valenzuela says. "And they're not only getting published; they're winning prizes and gaining [visibility] in the wider literary world."
Founded in 2017, the annual Lambda LitFest is the newest addition to the organization's programming. A weeklong literary festival held in Los Angeles, this year's LitFest will take place September 29 to October 6, with readings, performances, panel discussions, and other literary events held throughout the city. Lambda Literary hopes to expand LitFest to other cities in the future.
The organization recently announced its first-ever Leadership Council, which includes writers Hilton Als, Kate Bornstein, Alok Vaid-Menon, and Judith Markowitz, who will help Lambda Literary strengthen its resources. With the help of the council, the organization will continue to carry out its mission to provide advocacy and support to queer writers. "We are still a collection of communities at risk," Landers says. "Our stories give us the tools we need to fight back." 
Jonathan Vatner is a fiction writer in Yonkers, New York. His novel, Carnegie Hill, is forthcoming from Thomas Dunne Books in August 2019.