The final line of Lucille Clifton's poem "Mulberry Fields"—"bloom how you must i say"— serves as a fitting epigraph to Camille T. Dungy's new book, Soil: The Story of a Black Mother's Garden, published by Simon & Schuster in May. At once invitation and imperative, those six words predict the book's narrative arc and embody the multiplicity of Dungy herself as poet, activist, mother, sister, historian, and gardener. They also beckon readers to come along on this journey where, as she writes, "Gardens, history, and hope are the same. Though once dearly beloved, if left untended, without anyone's dedication and care, much will be totally lost." Tending her own garden outside her home in Fort Collins, Colorado, as well as a far wider literary and cultural landscape, Dungy proves a trustworthy steward.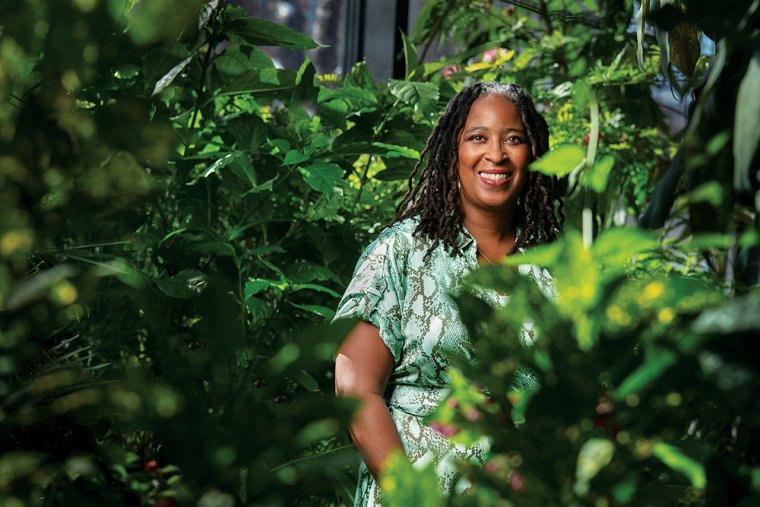 In the ten years that she, her husband, Ray, and their daughter, Callie, have lived in Fort Collins, where she is a University Distinguished Professor at Colorado State University, Dungy has bloomed as both gardener and writer. The seed of her interest in the natural world may have been planted by her father, Dr. Claibourne Dungy, a pediatrician by education and training as well as a gardener, she says, "because it brought him joy." While she has kept houseplants since her first apartment in Greensboro, when she was a graduate student at the University of North Carolina, her current home marks the first time she's had the land and the intention to stay long enough to watch a garden grow into maturity. The space is only two-fifths of an acre, which includes the house, but it's enough. "My husband is from New York City, and we moved here from the Bay Area," she says, "so taking care of an acre of land was unfathomable to him and exhausting-sounding to me. I can do a lot with this space."
And she has. The frontispiece of Soil is a map of the yard as it appeared when Dungy and her family moved in, the back page a map of her current garden. "It doesn't feel like I've made some overwhelming accomplishment," she says, "but when I saw the maps, I thought, 'Holy cow! I have done a lot.'" To her, though, it seems a more gradual change, one step forward, two steps back, and there's always more to be done—also true about writing. For her they intersect: "That's why I like to garden while I'm writing. Both require a sense of observation that goes below the surface to intangibles, small details. You have to move with the flow of something that is alive and vibrant—and surprising."
Any reference to "garden" tempts a leap to archetype, allegory, metaphor, and all manner of interpretation. Dungy insists on a real garden—the pleasures of the garden she grows as the site of beauty. She uses words like enchanted to describe her relationship to that endeavor, which also means happily getting her bare hands in the dirt. "No one forces me to work," she writes. "I enjoy working in the garden." She revels in plants native to her Colorado home, preferring flowers to a more utilitarian garden. "I just like looking outside, seeing things grow for their own sake, not because I'm waiting on them to produce some fruit that will be mine to take, but because they are growing for their own life will." She takes her cue from that self-determination, writing that she can "plant restorative love in my garden—and in this book." No wonder that the mere listing of the Latin nomenclature of plants alongside their common names becomes a lyrical litany in the hands of this poet-writer.
Dungy's deep longing for beauty echoes "In Search of Our Mothers' Gardens," the classic essay by Alice Walker, and she sees the same yearning in the Harlem Renaissance poet Anne Spencer, who found in her garden "an oasis in an inhospitable land," as she writes in Soil, where Spencer could focus on "how beauty fed her." Dungy celebrates this literary foremother who was a staunch activist for civil rights, a gifted poet, and an inspired gardener in Lynchburg, Virginia, the same town where Dungy began her academic career at Randolph-Macon College as only the second Black woman hired as a tenure-track professor in the school's history.
In her new book's opening section, Dungy sets a similar stage for herself when she recalls her family's move to Fort Collins—at the time "the only Black family on our block," in a community that fully endorsed, indeed enforced, the order and homogeneity of manicured, chemically fed suburban lawn culture. Dungy acknowledges that she never asked permission and received some pushback for violating the homeowners association (HOA) rules as she began to transform the lawn into a vibrant garden. She asserts that she was simply doing what she thought was important and right, assuming that "anyone with any common sense in the American West will catch up to this." As the years passed, the HOA relaxed the rules, and the larger community promoted native plants and practices to conserve the area's precarious water supply. But the garden is Dungy's space, aesthetically and politically. "As a Black person and as a woman, it is deeply important to me that I get to choose what I do with my body and my time," she says. "The historical tradition of this nation has not given us significant space to make those decisions." In her garden, she decides.

It is no exaggeration to say that Dungy has been working toward Soil for more than two decades. Having received degrees from Stanford University (BA in 1995) and the University of North Carolina in Greensboro (MFA in 1997), she moved in 2006 from Randolph-Macon College to teach at San Francisco State University, where she met her husband, Ray Black. As a new faculty member Dungy reached out to colleagues in Africana Studies and heard back from Black, who was writing his dissertation at the University of Chicago on William Wells Brown and his radical (re)invention of the slave narrative, the same subject she centered in her 2010 poetry collection, Suck on the Marrow (Red Hen Press). After a month of e-mailing that established their shared intellectual interests, they finally met in person: "What began as a business dinner was by dessert a date," she recalls with a hearty laugh. One marriage and a daughter later, they moved as faculty colleagues to Colorado State in 2013.    
Along the way Dungy has steadily received recognition and awards. Her many honors include fellowships from the National Endowment for the Arts, Cave Canem, and the Guggenheim Foundation. In 2021 she received the Academy of American Poets Fellowship in recognition of distinguished poetic achievement. In her four prize-winning poetry collections, Dungy explores the natural world through the lens of her interior life. The title poem from her most recent poetry book, Trophic Cascade (Wesleyan University Press, 2017), which won the Colorado Book Award, exemplifies this potent admixture as she reflects on the reintroduction of gray wolves to Yellowstone National Park and its effect on animal and plant life. She concludes:
...Don't
you tell me this is not the same as my story. All this
life born from one hungry animal, this whole
new landscape, the course of the river changed,
I knew this. I reintroduced myself to myself, this time
a mother. After which, nothing was ever the same.
In the essay collection Guidebook to Relative Strangers: Journeys Into Race, Motherhood, and History (Norton, 2017), a finalist for a National Book Critics Circle Award, Dungy firmly establishes her commitment to write as a mother. Despite what she believes artistic convention has taught her, she explicitly refuses to "erase" her motherhood and asserts that the domestic sphere is worthy of thoughtful attention because it is as much the site of creativity as the so-called larger world of politics and more abstract intellectual pursuits.
Perhaps the most direct line to Soil is Dungy's earlier work Black Nature: Four Centuries of African American Poetry (University of Georgia Press, 2009), a groundbreaking anthology that she calls "a correction." After conducting a literature review of what were considered significant nature poetry anthologies and journals from 1930 to 2006 and finding only six poems by Black poets, her response was unequivocal: "That did not represent the world as I knew it or my writing community as I understood it." So she created her own anthology: nearly 400 pages, 180 poems, and 93 poets that expand the canon of what is considered nature writing and challenge an outdated notion of who is invited to participate in those conversations. Within a few years, Black Nature has become a key text in environmentally engaged writing as well as more broadly in American literature.
Soil is organized as a series of sections, some of them published as essays before 2020, the year Dungy settled into the creation of a full-fledged book. With so much of Guidebook about traveling with her daughter in the U.S. and abroad, she recalls, "I was becoming really interested in what it meant to root down and stay in one spot." Then 2020 happened, and she had no choice. Looking closely at what it meant to live in one place, she found herself "writing into the garden more consciously and actively." But it got tricky. With a 2019 Guggenheim grant to support the project she had already titled Soil, she looked forward to the luxury of time and space to write. By March 2020, however, she was supervising her daughter Callie's remote learning as Ray scrambled to transition from in-person classes to a virtual classroom on Zoom. Dungy is frank about the anger and vulnerability that she felt during the early days of the pandemic, but she got down to the business of writing most of the new material that appears in Soil during that isolated period of being homebound.
Yet Soil is a book concerned with and created through community and collaboration. "So much of my life as a writer and thinker has been about redefining community," Dungy says. "It's perpetually important to me to expand community and interrogate our assumptions about what it means." Throughout Soil she scrutinizes the tradition of the loner, the solitary individual, in nature writing and as part of the artistic life in general. Why, she wonders, does Annie Dillard, whose work she admires in many ways, rarely, if ever, offer personal details in her writing? Does she even have a domestic life? Was it necessary for Thoreau to sequester himself in a cabin near Walden Pond to think philosophically? With a bit of sly but serious humor, Dungy quotes Lucille Clifton, who, when asked why she wrote such short lines of poetry, responded that they matched the brevity of her children's naps. Such subversive candor—answering a question about the artistic process from a maternal viewpoint—is clearly a source of delight and inspiration to Dungy. She offers her own unapologetic reminder that life demands multitasking, that one sphere of experience enriches another, that the artist also benefits from being a mother, a daughter, a wife, a gardener (and vice versa). A grace note of Soil is the celebration of intergenerational motherhood with Dungy writing about herself as a mother, her grandmother, and especially her own mother. Madgetta Dungy, PhD, was the first African American woman to graduate with a BA from Cornell College, which named a writing studio in her honor in 2014. She worked as a university administrator for most of her professional life and continues as a committed patron of the arts. In Soil, Dungy reflects on a photograph of her grandmother and mother: "In her smile…I can see my mother's connection with the people who love her and whom she loves. I can see the love I was born from and raised into." (Dungy isn't the only daughter to have been born from and raised into that love: Her sister, Kathryn Dungy, is chair of the Department of History and Philosophy at the University of New Orleans.)
In a charming rant, Dungy quotes from Mary Oliver's much-beloved poem "The Summer Day," in which the speaker describes kneeling to watch a grasshopper eating sugar out of her hand and asks rhetorically, "What else should I have done?" Dungy replies, "I'll tell you what I would have done: The dishes. The laundry. A pile of work for pay." She continues: "Here is the contract the culture has made: In becoming a mother, the one precious life I am expected to think about is seldom my own." Dungy refuses to sign that contract. She cites the work of contemporaries she admires such as Robin Wall Kimmerer, Jamaica Kincaid, Barbara Kingsolver, and Aimee Nezhukumatathil as evidence that talking about family and communal life in artistic work shows how hungry many are for a more expansive perspective. "I'm not telling people not to love that particular poem," Dungy insists. "But some of our responses to art are culturally prescribed, supported, and reified, and that is something I'm asking readers to think about. How are the ways that you move through the world built from a culture that has decided who you read, how we talk about what we read, and what the people who are writing are allowed or encouraged to write about?"
She seeks answers to those questions in community, which is how Soil presents itself. Truly a hybrid project of interspersed prose, poetry, and photographs, it is "a book that functions as a piece of art," according to Yahdon Israel, the editor who brought her to Simon & Schuster. Dungy's parents served as early readers of the manuscript—they moved from Iowa to Colorado in 2017 to be near their daughter and her family—and she credits her mother with "insisting from the start" that poetry be a part of Soil. "I talk a lot in the book about the ways that being a poet affects how I see and experience the world. So as much sharing as I do about my personal life and community, I felt it would be disingenuous not to share some of my poetry," most written specifically for this book project in 2020.
While the writing is Dungy's, the visual images throughout the book were created communally with her friend and kindred gardening spirit Mary Ellen Sanger; her daughter, Callie Violet (in an endearing coincidence, "Violet" is a family name); and the photography artist Dionne Lee. Dungy recalls that Callie became excited when Sanger started taking photos of the garden, generally close-ups of specific flowers, such as columbine, echinacea, and hollyhocks, along with the occasional bunny. "Next thing I knew, Callie was taking pictures with Mary Ellen's camera and had so much fun that her Christmas present that year was a camera," Dungy says. "It got to the point where I didn't know which of the photos were mine, which Mary Ellen initiated, and which were Callie's."
Dungy met Lee when she came to Colorado State to give a talk in 2021. In a bit of arranged serendipity, Lee had requested that Dungy be invited to join the presentation because, as she explains, Black Nature was an influential part of her MFA thesis at California College of the Arts. In her artist statement Lee writes, "My work considers the complications and dual legacies that exist within photographic representations of the American landscape that has historically presented as a vast, empty, and conquerable land," a topic clearly within the domain of Dungy, who was born and raised primarily in Colorado and California before the family moved to Iowa when she was in high school. When Dungy began explaining to Lee her concern about keeping continuity within the book while including the photographs, Lee offered to take a look. Accustomed to working alone, Lee willingly admits, "I just really wanted to work with Camille. I think that's the best kind of collaboration—when you're pulled to someone because of the work." Dungy sent Lee cuttings of plants from her garden, and Lee, who teaches at Ohio State University in Columbus, created darkroom prints by placing images of the actual plants directly onto light-sensitive silver gelatin paper. The result is a series of elegant photographs that are woven throughout the pages of Soil.
The collage of prose and poetry along with visual images contributes to what Dungy describes as the "flow" of Soil. During "eight grueling weeks of revision" between February and April 2021, she trimmed more than 110,000 words to about 85,000. One of the most significant changes from the original manuscript was removing the titles of individual pieces, which she says she stopped thinking of as potentially free-standing essays: "In the way that you walk into a garden, you might see individual plots that should all fit together cohesively, I started thinking about how one piece flowed into the next and the next." The photographs fit perfectly into this way of seeing the whole book not as thematically linked essays, as Guidebook was, but instead as a single narrative: "The Story of a Black Mother's Garden." Collaboration created content. "I'm thinking a lot in Soil about the difference between the idea of individual genius and wisdom coming from community, shared beauty coming from collaboration," Dungy says. "So moving from the written word in prose to the written word in poetry, to these visual pieces, this collaboration of modes, of telling, of artistic rendering and explanation also felt to me to be part of the ethos of the book—not to stay only in a prose narrative, but to move sometimes to poetry, to let the eye linger on the visual image, then move back to prose."
The range of issues and ideas Dungy traverses in Soil can seem overwhelming: marriage and motherhood; her godmother, Aunt Mary, and impressionist painter Mary Cassatt; her own domestic garden; the wildfires that threaten her home and the whole planet; the Great Chain of Being; and the election of Donald Trump—to name a few. But Dungy sees them all as "a continuity of concern." When her mind seems to be flying in different directions, she asks herself what the "connecting impulse" is that drives a "particular obsession" until she finds the very basis of her caring. She embraces the messy reality of complications, contradictions, or dualities. In a 2022 interview with the Metropolitan Museum of Art about her role as host of Immaterial, a podcast about the materials of art, produced by the Met in collaboration with Magnificent Noise, she reflects, "I think the reason that duality shows up in all my work is the reality of my experience in life: This kind of movement between dislocation and location, or between a sense of difficulty and triumph…that sort of motion back and forth is a regular function of my experience of the world."
Her comfort with contraries manifests itself in the synergy she sees between the natural world and social justice. Early in Soil, she asserts, "Whether a plot in a yard or pots in a window, every politically engaged person should have a garden." At first glance the private activity of gardening and political activism seem at odds, but not for Dungy. In many of the essays she draws parallels between living a life that welcomes diversity in all its forms and cultivating a garden that welcomes birds, bees, and plants that include beautiful flowers like hollyhocks and larkspur, "volunteers" that crop up on their own, and some that are considered to be pesky weeds. Certainly the calming and centering effect of a garden has been well noted, but Dungy says her garden teaches her "about cycles and biding my time." She continues: "I can plant a seed, but it will take some time to mature. That's true of political action as well: We want the change to happen instantaneously, but it rarely does. The garden helps me understand the payoff of patience." Difficulty and triumph are not such strange bedfellows.
Even her title, Soil, suggests duality. The most common definition is earth, an organic substance, yet the verb form can mean stain, even to defile morally. Dungy smiles as she points out the obvious: She's a poet. "I was interested in that oscillation between those things that can be the source of bounty and the source of degradation and ruin," she says. "They're often closely aligned. Really good soil itself is the result of some corruption, decomposition, and death. Perhaps the answer to moving forward is not ignoring the difficult parts of our history and present—but embracing and digesting them so that we can cast them into the ground, into the soil, to grow something new and vibrant."
That ability to see unlikely connections, even ambiguous ones, is a constant reminder that this book is written by a poet, a poet writing prose, but a poet nonetheless. Her friend and fellow poet Major Jackson describes that sensibility: "What I find remarkable is the psychological depth and attentiveness one encounters in her prose that is utterly cultivated and honed by her work as a poet. Camille's impulse is to do more than enshrine the world around her, which is the impulse of most poets and of image-driven poems, but Camille casts a loving, critical gaze that is steeped in the possibilities of language to unearth the hidden, what Seamus Heaney referred to as 'Digging.' She is prone to make a surprising associative observation rather than repeat or sanction preordained beliefs about the environment, parenting, history, or living as a writer. The poet finds a way to stitch these matters with a lyrical elegance that is utterly imaginative and rare."
In the very beginning of Soil, Dungy writes, "I wanted a home where our family could stretch out and root down in peace." Three years later, amid a worldwide pandemic, multiple climate crises, and daily reminders of hardening political divides, has she gotten her wish? "Most of the time, yes," she reflects, noting that no place is perfect: "If it were, we—or I—wouldn't need to spare the trouble to think about others. A little tension and friction make me pay attention." She appreciates living where her family can bike and walk instead of driving, where their spending footprint doesn't have to be so deep, and where there are neighbors who live in fellowship, a space where, she says, "we can live intentionally and conscientiously in alignment with our values." However hard-won, that sounds like a definition of peace—with roots, blooms, and room to grow.
Renée H. Shea, formerly a professor of English and modern languages at Bowie State University in Maryland, has written extensively for Poets & Writers Magazine, contributing profiles of Chimamanda Ngozi Adichie, Edwidge Danticat, Rita Dove, Imbolo Mbue, Celeste Ng, Naomi Shihab Nye, Arundhati Roy, Namwali Serpell, and Tracy K. Smith. She is lead author for the English Language Arts High School Series for Bedford, Freeman & Worth.
Corrections: An earlier version of this profile stated that Camille T. Dungy moved from Randolph-Macon College to teach at San Francisco State University in 2011; in fact, she moved in 2006. Additionally, an earlier version stated that Madgetta Dungy was the first African American woman to graduate with a BA from Cornell University; she graduated with a BA from Cornell College. The text has been updated to reflect these corrections.