Occasionally, when Bleeke thinks a writer is uncommonly talented or she wants to signal that she would be open to a revised draft, she'll offer the writer constructive criticism, but most of the time rejection letters are principally communications between herself and the agent, written with an eye toward making their next interaction more productive.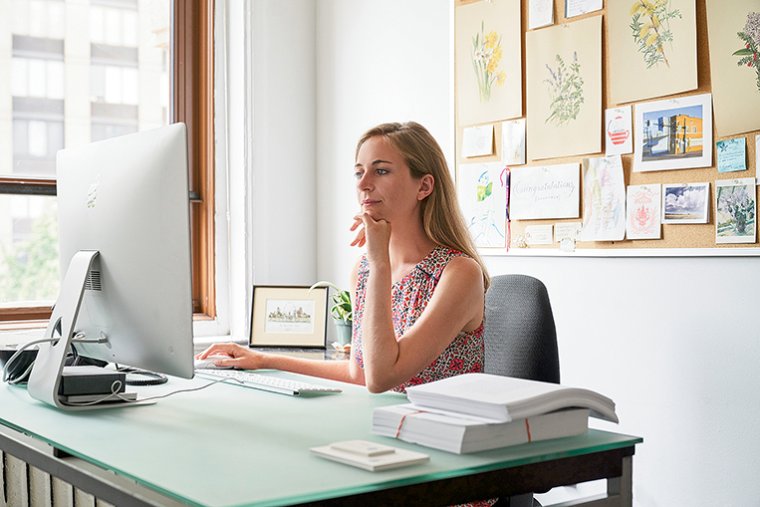 Conversely, when Bleeke likes a book, she knows that very quickly too. "I know probably within the first few pages if I'm reading something amazing," she says. "As I continue reading, I'm thinking about things like, 'How original is this story?' 'How fresh are these characters?' 'Is this author leaning too hard on tropes, or does this feel authentic and real and different?' I'm thinking about how it would fit on our list."
For Bleeke a novel's freshness encompasses more than just its plot and characters. Who the author is matters to her too. Starting with her first acquisition at Flatiron, Anuk Arudpragasam's The Story of a Brief Marriage (2016), set in war-ravaged Sri Lanka, Bleeke has championed the work of writers of color. This is in part a matter of political conviction. Bleeke is acutely aware of the glaring lack of diversity in the publishing industry—a 2016 Publishers Weekly survey found 87 percent of employees were white—and is passionate in her belief that editors need to actively seek out underrepresented voices.
But, she says, she is also naturally drawn to characters and authors from backgrounds different from her own. "The books that I love, the books that move me, are books that expand my world in some way, that make me more empathetic, that introduce me to worlds and characters that I don't know but that still have this deep emotional resonance for me," she says. "In a lot of cases, some of the most exciting, fresh fiction is coming from these writers because they just hadn't been published before."
When she comes across a manuscript she thinks she might want to take on, Bleeke passes it around to her colleagues at Flatiron, both to check her own first impression and to gauge the institutional enthusiasm for the author's work. At the most practical level, she has to get the approval of Amy Einhorn, Flatiron's executive vice president and publisher, who must sign off on any contract Bleeke offers to an author. But Bleeke will also pass along manuscripts to colleagues like publicity manager Amelia Possanza to get Possanza's answers, "from a publicity standpoint," to questions like "Do you think this could get review attention?" and "Do you think this author would be interesting for profiles?"
If a submission survives this round of second reads, Bleeke will call up the author, in part to discuss the book and any major changes that might need to be made, but also just to get a feel for who the author is and how well they might work together.
"I think I have a tendency to fall in love with my authors on the phone," Bleeke says. "Amy always teases me about it. I'll run into her office after a phone call and I'll be sort of grinning from ear to ear, and she'll say, 'You fell in love again, didn't you?'"
If Bleeke and the author do indeed click, she'll draw up a profit-and-loss statement, or P&L, to make a case for the book's commercial viability. A P&L typically lists a number of recently published books similar to the one an editor wants to buy and uses the sales records of these "comp titles" to predict how well the unpublished book might do. A well-crafted P&L can be useful for books in predictable categories like cookbooks or for an author with a lengthy sales record, but because Bleeke is still a young editor and is therefore publishing mostly debut novels by unknown writers, the P&Ls she creates are, by her own admission, far less predictive.
"It's guesswork," she says. "Sometimes it's very optimistic guesswork, but you really, really believe in the book, you really want it, so you're going to take a flier, and who knows, maybe you'll get the golden ticket and the book will work beyond anyone's expectation."
Then, too, by signing young, unheralded authors writing their debut novels, Bleeke is hoping to get in on the ground floor with a future best-selling writer who might bring profit and prestige to Flatiron two or three books down the line.
If Bleeke can convince Einhorn that the acquisition makes sense and best any offers the writer may have from other editors, she'll sign up the author for Flatiron. But while the writer is busy trading party-popper emojis with her agent and posting photos of her book contract on Instagram, Bleeke's real work as an editor is only getting started.
It's rare, she says, for her to take on a book she sees as seriously flawed, but she has no compunction about suggesting changes when they're needed. With If You See Me, Don't Say Hi, for instance, Bleeke urged Patel to cut one of the original stories and edited the drafts of two new stories he wrote to replace it. These two stories now close out the collection and are among its most assured and ambitious, a fact Patel credits to Bleeke's editorial acumen. "The difference between writing on my own and writing with an editor now, it's incredible," he says. "I was like, where was she my whole life when I was trying to write stories and it would take me a year to write something?"
Even as she's editing the manuscript and working with Flatiron's art director, Keith Hayes, to design an eye-catching cover (see "The Aha! Moment," on page 80) Bleeke is riding herd on Flatiron's marketing and sales campaign, pitching the book to Macmillan's internal sales force, and hunting down blurbs from authors, librarians, and other literary tastemakers. As an editor, she explains, "You're the main supporter of this book. You're the book's person. There are a lot of people involved, but the first job of the editor is to make your own enthusiasm contagious. You want to get everybody just as excited as you are."
The closer a book comes to publication, the more Bleeke relies on publicity staffers like Possanza. Meet Me at the Museum, the subject of the morning marketing meeting, would seem at first a daunting publicity task. For one thing, the novel's author, Anne Youngson, who is seventy and started writing seriously after taking early retirement from a career in the British auto business, is an unknown quantity to American readers. Then there's the book itself, a deft but slow-building epistolary novel chronicling a chaste love affair between a British farm wife and a Danish museum curator.
As Bleeke and Possanza speak, it's clear they plan to put these very elements at the center of their publicity push. They seem genuinely charmed by Youngson's unconventional path to publication and have set up a series of private events to give the author a chance to introduce herself and offer insights about her transition from business executive to published novelist to a select audience of journalists and booksellers.
Possanza, meanwhile, has been scouring the web for readers who might be drawn to the novel's stylistic elements to help drum up prepublication buzz. "Some people are really obsessed with epistolary novels, and we can go on the Internet and see that, 'Oh my God, this person has reviewed three epistolary novels,' so maybe they want another one," Possanza says. "Some people are really obsessed with Seamus Heaney, whose poem plays a role in the book."
To augment this publicity and marketing push, Bleeke has sent, by her estimation, fifty handwritten notes to librarians and booksellers touting Meet Me at the Museum. (She did the same for Neel Patel's story collection, which came out in July, a month before Meet Me at the Museum.) This is a tremendous amount of work, with uncertain returns, but Bleeke sees these notes as a way to talk up her titles while building yet another web of social connection, this time to the people who are ultimately responsible for putting the books she edits into the hands of readers.
"There is so much I do where I have no idea whether this is making any kind of difference, but this is a very concrete thing I can do," she says. "I can reach out to this person. I can open a line of communication. I can introduce them to this book, and in the case of Meet Me at the Museum, people really responded to it and loved it."
Bleeke declines to discuss the subject of her annual pay, but the website Glassdoor estimates that Macmillan pays editors at her level an average of about $56,000 a year. Given Bleeke's Ivy League degree, the hours she puts in at the office and on nights and weekends, and the fact that she lives in one of the world's most expensive cities, it's fair to say she isn't in it for the money.
"To survive in this industry you have to be an eternal optimist," she says. "You have to still feel the same rush from discovering a great new voice that you felt when you were a twenty-three-year-old assistant. You need to somehow maintain that passion for what you're doing and be willing to make it a huge part of your life and realize that you're probably going to struggle with work-life balance your entire career, but you're doing what you love." 
Michael Bourne is a contributing editor of Poets & Writers Magazine.