Longtime P&W-supported sponsor and writer M. L. Liebler, author of fourteen books of poetry including The Moon A Box, which received the 2005 Patterson Poetry Award of Excellence, blogs about the second annual Detroit Michigan Writers' Retreat in downtown Detroit.
On the morning of September 17, about forty or so metro-area writers attended the second annual all-day Detroit Michigan Writers' Retreat sponsored by Metro Detroit Writers and Springfed Arts at the legendary Virgil H. Carr Cultural Center in the heart of Paradise Valley. Folks arrived early for coffee, greetings, and to meet new writer friends. John D. Lamb once again offered an affordable, excellent retreat as he has since 1998. The retreat, for many years, was in northern Michigan, and each retreat featured a great lineup of acclaimed writers such as Michael Moore, Ben Hamper, Joyce Maynard, Thomas Lux, Alicia Ostriker, Dorianne Laux, and Billy Collins, among others. Last year, John moved the event from the wilderness of northern Michigan to the center of the city.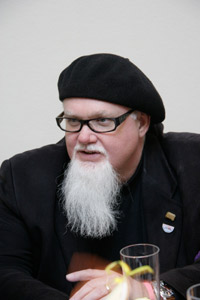 This morning began with a poetry craft talk by Denise Duhamel, who stressed the need to bring the concrete experiences of life into poems to make them as real as possible for audiences. She used examples from great works by Pablo Neruda, Ezra Pound, and Etheridge Knight. Denise was followed by Ohio novelist and memoirist Robert Olmstead, who offered detailed fiction techniques that reached many of Detroit's fiction writers.
Following Robert's talk, writers took to the park in front of the Carr Center for lunch, gossip, and other writerly things. After lunch, E. Ethelbert Miller gave a motivational talk about the importance of being "activists for literature." I could hear by the discussions that followed, Miller's ideas resonated with Detroit-area writers. The afternoon craft talks ended with a strong presentation on memoir writing techniques and ways to get the most from our life stories. Miller shared his memoir on growing up in Trinidad and coming of age in New York City.
The day concluded with an open mic by the participants. This is the chance for attendees to share their talents, and I always find it very inspirational. Topics ranged from world peace to an exploration of diversity and multiculturalism. I was particularly struck by Ami Mattison, a Guam poet, who read an engaging poem about her life as a member of the Chamorro people.
By 6:00 that evening everyone left the retreat invigorated, charged up, and ready to take on their writing in new, inspirational ways... Success!
Photo: M. L. Liebler.

Support for Readings/Workshops events in Detroit, is provided by an endowment established with generous contributions from the Poets & Writers Board of Directors and others. Additional support comes from the Friends of Poets & Writers.