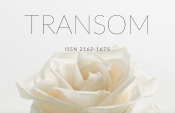 Accepts Unsolicited Submissions:
Accepts Simultaneous Submissions:
Editorial Focus
Since its conception, TRANSOM has included poems alongside poet interviews that dig deeper into an examination of poetry as it lives, in the world between poets and readers. TRANSOM is a poetry journal that continues in that tradition, inviting not only poetry but lived and living experience. We also welcome and encourage visual art submissions.
Tips From the Editor
A transom is the bar of wood that separates a door from the window above it. What comes over the transom is lobbed, has grace, arcs in. 
TRANSOM is expansive. We encourage a wide definition of poetry.
Last updated: Oct 03, 2023