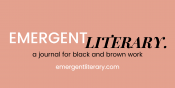 Genres Published:
Poetry, Fiction, Creative Nonfiction
Formats:
Online, Digital, Audio, Video
Accepts Unsolicited Submissions:
Accepts Simultaneous Submissions:
Editorial Focus
Emergent Literary is an assemblage of black and brown work. To the editors, Emergent refers to urgency, immediacy, inception and birth, beginning, forefront, and now. It also refers to the philosophy of emergence as interreliant entities combine to create a radical new wholeness. The magazine pays homage to the Combahee River Collective and their foundational work in identity politics and radical liberation. The editors are also inspired by the legacies of Kitchen Table: Women of Color Press and Broadside Press.
Tips From the Editor
We welcome work from black and brown makers in all genres, as well as work that reaches across multiple genres or obscures the boundaries between them.
Before submitting, we ask that you take a look at our mission statement in order to get a sense of the journal.
Contact Information
Kameryn Alexa Carter, Founding Editor
Last updated: Jan 24, 2023