See writers who are published in this journal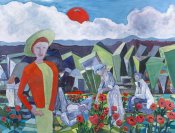 Genres Published:
Poetry, Fiction, Creative Nonfiction
Accepts Unsolicited Submissions:
Accepts Simultaneous Submissions:
Editorial Focus
Rolling submissions. We especially like lyric essays and prose poetry, but check our guidelines for genres accepted during specific reading periods.
Occasional themed issues. Occasional print issues (every few years, usually as a collection of select pieces from previous issues).
Tips From the Editor
Please check our guidelines for specifics. We have rolling submission dates.
We especially enjoy lyricism, realism, the light breaking through the darkness. Beautiful prose poetry is sought.
Contact Information
Chila Woychik, Managing Editor
Last updated: Sep 21, 2023