See writers who are published in this journal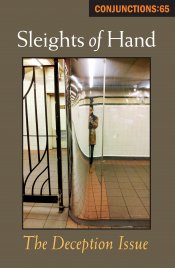 Genres Published:
Poetry, Fiction, Creative Nonfiction
Formats:
Web, E-publication, Print
Accepts Electronic Submissions:
Accepts Simultaneous Submissions:
Accepts Unsolicited Submissions:
Editorial Focus
Conjunctions publishes innovative contemporary fiction, poetry, drama, art, and essays by established and emerging writers in America and abroad, providing a forum for the now over 1000 contributors whose work challenges accepted forms and modes of expression and experiments with language and thought. Read dangerously!
Tips From the Editor
Most print issues are themed (see www.conjunctions.com/preview.htm for information on upcoming themes) and include both solicited and unsolicited work. Additionally, all submissions are automatically considered for the online arm of the journal, a weekly publication (www.conjunctions.com/webconj.htm) with a large and international audience.
Contact Information
Micaela Morrissette, Managing Editor
Last updated: Sep 27, 2017