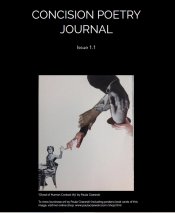 Accepts Unsolicited Submissions:
Accepts Simultaneous Submissions:
Editorial Focus
Concision Poetry Journal publishes experimental poetry and visual art. While formatting is considered, it takes a back seat to experimenting with language and line. Narrative poetry is generally not considered.
Tips From the Editor
Read at least the most recent issue before submitting. Poems published demonstrate how sharp and flexible language can be. The focus is on experiments in line (and sometimes form). Includes reflections on experiments and book recommendations from the authors published in each issue.
Contact Information
Haley Lasche, Founder and Editor
Last updated: Sep 23, 2022