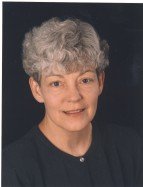 Publications & Prizes
Books:
& it had rained
(WordTech Communications, 2013)
,
,
Thresh & Hold
(Big Pencil Press, 2009)
,
Swan, What Shores?
(New York University Press, 2000)
,
The Bones Remember
(Stone Graphics, 1992)
,
Journals:
,
Campbell Corner Poetry Prize 2006
,
,
Prizes won:
New York University Press Poetry Prize
Colorado Book Award
Women Writing the West Award
Gell Poetry Prize
"Around the Block of the World" and "The Samovar" co-won the 2006 Campbell Corner Poetry Prize. She has twice received Individual Artist's Fellowships from the Colorado Council on the Arts.
Last update: Oct 25, 2016