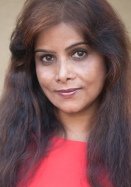 Publications & Prizes
Journals:
,
,
,
The Enchanting Verses Literary Review
,
Prizes won:
Pushcart Prize Nomination (2021) for poem "Sermon" by International Human Rights Art Festival. Naji Naaman Literary Prize (2017) for poetry collection "Bare Soul." Nominated for "Honor Of Yeast Litteraire" by "Levure Litterarie" magazine. Rajiv Gandhi Global Excellence Award for contribution to Literature and Film. Bihar Rajbhasha Award for poetry collection "Chand Ka Paivand" (Patch of Moon), Title of "Bihar Shree" (Jewel of Bihar) India.
Last update: Oct 31, 2022