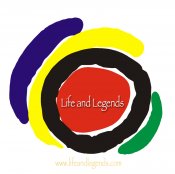 Genres Published:
Poetry, Fiction, Creative Nonfiction
Formats:
Web, E-publication, Audio, Video
Accepts Electronic Submissions:
Accepts Simultaneous Submissions:
Accepts Unsolicited Submissions:
Editorial Focus
Life and Legends, primarily a poetry journal in English also publishes other forms of literature such as prose, translation, non-fiction, video and sound of literary interest from across the world. Our focus is to share diversity in literature by publishing international writings in English, or translated into English from other languages. We provide opportunities to the newer writers, alongside publishing the works of the living legends.
Tips From the Editor
Please, read the submission guidelines carefully, before submitting your work. We DO NOT follow up with a work that is not submitted according to our guidelines. Though, we advise you contact us, if you have not heard back from us in 3 to 6 months. For more information please visit - http://lifeandlegends.com/submit/
*The submission deadline for Life and Legends #4 is now closed. Call for Submissions will reopen on June 1st, 2016.
Contact Information
Kalpna Singh-Chitnis, Editor-in-chief
Last updated: Feb 17, 2017