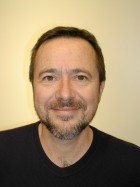 Creative Writing Program
Le Moyne College
Syracuse,
NY
13214
Publications & Prizes
Fiction
Book:
Boys: Stories and a Novella
(Syracuse University Press, 2004)
Poetry
Books:
,
The Everyday Apocalypse
(Three Conditions Press, 2002)
Prizes won:
First Place, New American Press chapbook contest for The Gospel According to Frank, 2003.
First Place, 2002 Maryland State Poetry & Literary Society Chapbook Contest for poetry collection The Everyday Apocalypse.
Fulbright Distinguished Scholar Award, for research and lecturing at the University of Wales, Bangor, 2000-2001.
Robert H. Winner Memorial Award, Poetry Society of America, co-winner for manuscript titled "Sestinas for the Everyday Apocalypse," Judged by W. D. Snodgrass (April 2000).
Last update: Jul 30, 2009