On December 10, 1997, environmental activist and writer Julia Butterfly Hill climbed an ancient, 200-foot redwood tree in Humboldt County, California. She didn't come down for over two years.

During her residence atop the 1,000-year-old tree, Hill became an icon of the campaign to save the old-growth forest. After two years in a makeshift tree house, Hill persuaded the landowner, the Pacific Lumber Company, to spare the tree and three acres of surrounding forest. Back on terra firma, Hill was approached by HarperSanFrancisco, an imprint of HarperCollins, for the rights to publish her memoir, Legacy of Luna. Hill accepted the offer, with one stipulation: Her book had to be printed on 100 percent postconsumer recycled paper manufactured without the use of chlorine bleach.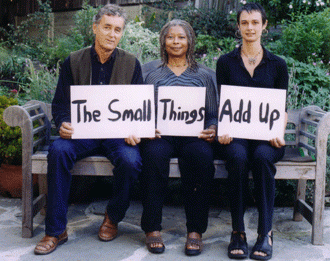 HarperSanFrancisco initially balked at the requirement, believing it to be too expensive, but after much negotiating with Hill, the publisher finally agreed to her terms. When Legacy of Luna was published in 2001, Hill says a few national media pundits labeled her a hypocrite because they assumed the book had been printed on paper made from virgin fiber—manufactured without the use of any recycled or alternative fibers. They were forced to retract their statements after they learned the truth. "The message is only as good as the vehicle that delivers it," Hill says. "People need to realize the publishing industry is one of the top destroyers of forests worldwide."
Figuring that most writers would consider living in a tree strictly for the birds, Hill and a group of authors and publishers are teaming up with the Green Press Initiative, a nonprofit organization in Encinitas, California, to propose a simpler activity: printing books on recycled paper to help preserve the environment. This month the coalition of authors, publishers, printers, manufacturers, and booksellers will release "Industry Blueprint for Transformation," a report detailing how each sector of the publishing industry can shift to more environmentally sound printing technologies. The report contains case studies, strategies, and specific steps to reduce the waste and pollution generated by the publishing business.
"In 2002, the U.S. book publishing industry consumed twenty million trees," says Tyson Miller, who founded the Green Press Initiative in 2001 as part of the San Diego-based Recycled Products Purchasing Cooperative. As members of the organization, authors agree to require postconsumer recycled paper stock as part of their book contracts, and publishers agree to print at least 10 percent of their titles using environmentally superior paper and inks.
So far 45 U.S. publishing houses—mostly boutique and university presses-have voluntarily committed to more Earth-sensitive printing products. And a handful of authors, including Hill, Margaret Atwood, Barbara Kingsolver, and Alice Walker (her book of poems, Absolute Trust in the Goodness of the Earth, will be reissued in paperback by Random House in March), have agreed to require recycled paper as part of their publishing contracts.
Because the manufacturing of recycled paper requires fewer steps than does making paper from raw trees, the switch yields numerous benefits. According to Environmental Defense, a nonprofit organization in New York City, each ton of 100 percent postconsumer recycled paper that replaces virgin paper conserves 24 trees, 3 tons of wood, and 17 million British Thermal Units (Btus) of energy. At the same time, such a swap eliminates a ton of greenhouse gases, 10,000 gallons of wastewater, and 1,124 pounds of solid waste.
"By requiring more ecological printing processes," Miller says, "authors have the power to create a tangible and measurable benefit to society." With its report, the Green Press Initiative is hoping to bring its message to a wider audience. And it seems to be working: The American Association of Publishers, a trade group with 310 member book publishers, is helping to spread the word. "This is an idea we support," says Kathryn Blough, vice president of the AAP. "So we're sharing this information with our members."
The biggest challenge to eco-friendly book publishing remains the low demand for recycled paper, which results in higher cost, compared with virgin fiber stock. Many professionals in the industry anticipate this will change if the large trade publishers—Random House, Penguin Group, HarperCollins, Simon & Schuster, AOL Time Warner Book Group—begin to purchase recycled paper. Since the amount of paper they buy is so great, these publishing houses set the standard for the price of book paper. As of this writing, no trade houses have joined the Green Press Initiative.
Fortunately, some small presses have been more receptive. "The Green Press Initiative is a logical and necessary step we'll see more of in the future," says John Oakes, publisher of Four Walls Eight Windows, a small press in New York City that publishes an average of 30 titles a year, several of which are printed on recycled paper. Oakes says they would like to print more books on recycled paper, but admits they are limited by the added cost. He hopes to print additional titles on recycled paper in a few years, when growing demand and increased supply cause prices to drop.
Until then, the Green Press Initiative and its members will continue to deliver their environmentally friendly proposals. "This is an effort to generate demand," says Dan Sayre, publisher of Island Press in Washington, D.C. All Island Press titles—roughly 40 environmentally focused books each year—are printed on recycled paper. "We hope to gang up with enough presses to create an incentive for printers to stock recycled paper."
To obtain a copy of "Industry Blueprint for Transformation" and for more information about the Green Press Initiative, contact Erin Johnson at erin@greenpressinitiative.org or visit the Web site at www.greenpressinitiative.org.
Avery Yale Kamila is a health and environmental writer who lives in Portland, Maine.