To go from software programmer to successful novelist isn't an obvious evolution, even for an experienced technology blogger. But a lengthy conversation about artificial intelligence with a friend back in 2010 inspired William Hertling to write his first techno thriller—a move that would jump-start a successful career as a self-published author. Hertling spent a month completing the initial draft of Avogadro Corp, the first novel in what would become his popular four-book Singularity series, which together have sold more than sixty thousand copies. We discussed his self-publishing experiences, how he found success in the process, and some of the mistakes he admits he made along the way. For some perspective I spoke with freelance editor Jessica Page Morrell, an author and writing instructor, and Jessica Glenn, founder and CEO of Mindbuck Media, a firm specializing in author publicity.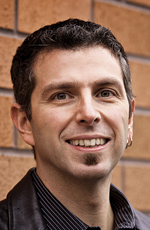 The Author's Approach
William Hertling is the author of six self-published books, including four techno thrillers in the Singularity series; a middle-grade detective novel, The Case of the Wilted Broccoli; and the guide Indie and Small Press Book Marketing. He was nominated for the Prometheus Award for Best Novel for A. I. Apocalypse, won Foreword Reviews' Science Fiction Book of the Year in 2011 for Avogadro Corp, and won Independent Publisher's 2014 IPPY Bronze medal in science fiction for The Last Firewall. He lives in Portland, Oregon.
I blogged about technology but I never saw myself as a writer. However, I always had a creative bent. For a final paper in college, I was supposed to critique a film or play; at the eleventh hour I still hadn't seen any performance, so I wrote about leaves changing color in the fall. My professor praised my originality and shared my paper with the entire class.
About five years ago, I was at lunch telling a friend about artificial intelligence (A. I.) and he insisted that it just wasn't plausible. So I started explaining A. I., and by the time our conversation was over my friend said the story would make a great book. I was working full-time as a programmer and had three kids in diapers, so finding the time to write a book didn't seem feasible. However, I then found out that I couldn't carry over my vacation days to the next year, so I took the month of December off and spent it writing my first draft of Avogadro Corp, finishing it while most people were at New Year's Eve celebrations.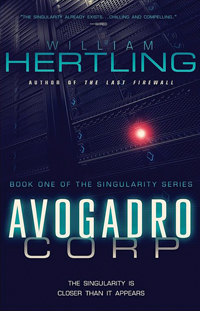 I gave it to my mother-in-law to edit and naively assumed it was then ready to be published. I did some research on how to submit books to publishers. I queried a number of houses that specialized in science fiction novellas. Every firm rejected the book and one editor even said he liked singularity stories—but not mine! I didn't really understand the comments, so I showed the book to programmers and people who didn't know me. I began getting some specific feedback, such as "Do more showing, don't tell." I was grateful for this advice but realized that I still didn't fully grasp what was wrong with my writing.
Stymied, I spent about $250 and took a Novel in Progress class at the Attic Institute in Portland. The instructor gave specific pointers on improving my plot structure and how to write dialogue. Armed with this new awareness about my book, I expanded it from 27,000 words to nearly 70,000 words. I sent it out again, to different publishers, but it was still rejected. I then attended the Willamette Writers Conference (for $500), and learned that I wasn't even submitting properly. I didn't know that I could send query letters to multiple publishers simultaneously. I talked to a few agents, but no one was interested. After a self-published author said he was paying his rent with his book royalties, my view of self-publishing changed. Selling books and earning money on your own without a traditional publisher seemed like something to consider.
I hired a college creative writing major to copyedit the manuscript for about $250. (I should have gone with someone more professional; unfortunately, the first printed edition contained tons of errors.) Because of my programming background, I formatted the e-book myself and my sister-in-law helped with the cover and interior design.
I had been an early user of online communities and was comfortable in that space, so once the book was available I promoted it online. I used Facebook and Twitter, and commented in various forums on the topic of A. I. I sold about a hundred and fifty books in the first month, about half to people who didn't know me. Facebook ads were particularly effective because I could target fans of similarly geeky books by authors such as Daniel Suarez and Charles Stross. I experimented with different ads, sending people to my website instead of Amazon, and targeting fans of various authors. It turned out that directing people to my website was a better method for generating sales, and aiming to reach readers of less famous authors was a better strategy as well. I tweaked my plans and intended to run ads for two more months.
One Saturday morning, my website exploded. Sales were crazy. It turned out that Brad Feld, a well-known venture capitalist, had blogged about my book! A friend urged me to build a relationship with Feld. I didn't know how I could connect with him but I researched his blog and offered to write about techniques available to predict the future. Feld loved the idea and published my blog post, which gave me another boost in sales. By the next year I was selling two thousand books a month.
I was selective in my marketing efforts; I sent books to the CEOs of a hundred start-ups, figuring they would be influencers. I have a mailing list of about a thousand names, and I use BookBub (www.bookbub
.com) for some promotions. I never felt comfortable hiring a publicist, in part because there is no way to track the impact of publicity on sales. I attended a few conventions but sold only a handful of books there. Another author I met at a sci-fi convention said it was important to have a full pipeline of work, so I started writing the sequel and published my other books in fairly quick succession. Having several books available definitely increased sales.
Within about three years I was selling some twenty-five hundred books each month, and at that point a literary agent finally wanted to represent me. It was an ego boost but I felt I was starting to really understand my core audience of computer programmers and geeks. The agent wanted to target my books to a broader sci-fi readership. I went back and forth with the agent for about nine months but I knew that it wasn't going to work out. Our visions just didn't match up. Still, the agent did motivate me to become more professional: I hired a developmental editor for my third book, The Last Firewall, which came out in August 2013. Then, from about December 2013 through April 2014, I extensively revised my first novel, Avogadro Corp, with the help of another editor and copyeditor. I got lucky when the designer (and now novelist) Jason Gurley offered to design a new black cover for the revised edition. Another designer, M. S. Corley, updated the rest of the series to match Gurley's design when my newest novel, The Turing Exception, came out this past spring. Thanks to the success of the books, I now work part-time and write the rest of the time.
My advice for other self-published authors:
• Hire a professional copyeditor and proofreader. They're not that expensive and they will catch errors. I wish I hadn't waited two years before hiring these professionals to reedit my books.
• Take a writing class. You don't know what you don't know until you hear it.
• Even if you're happy self-publishing, don't rule out finding an agent or traditional publisher. I found it difficult to sell my middle-grade novel, and I think if it had been published traditionally sales would be stronger.