Before teaching under-graduate courses in children's and young adult literature in the English department at the University of Arizona, Stephanie Pearmain was a reader for the Andrea Brown Literary Agency. "I have an MFA in creative writing," says Pearmain, "but my real, crash-course education in writing, editing, and the world of publishing came from the work I did as a reader for a literary agent."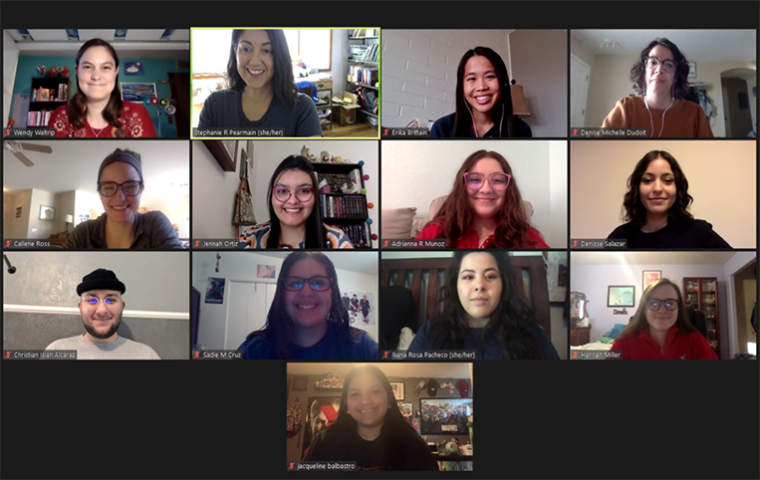 With this experience in mind, Pearmain helped develop a semester-long course at the university in 2016, English 389: Introduction to Publishing in the Children's Literature Market. Her hope was to give students a better idea of the many facets of the publishing industry with a hands-on approach, preparing them with practical skills and tools so they could see how a degree in English might open doors for their future careers. Initially the course began with students running an online literary magazine, but in the fall of 2020, Pearmain launched an even more ambitious class project, a pop-up literary agency for children's picture books called 389 Literary. "With 389 Literary, I set out to create a win-win-win situation," she says. "Students would get to work with real manuscripts and professionals in the field; writers would get feedback on query letters and picture book manuscripts, plus the possibility of an above-the-slush-pile read from top agents and editors—and agents and editors might even get a new client."
Pearmain figured if she could get at least one agent to agree to the project, it would be a success. To her delight six literary agents—including reps from two top juvenile literary agencies, Jennifer March Soloway of Andrea Brown Literary Agency and Miranda Paul of Erin Murphy Literary Agency—and one editor, Cheryl Klein, editorial director of Lee & Low Books, agreed to participate.
In the fall of 2020, 389 Literary was open for submissions, welcoming authors with children's picture-book manuscripts. By the end of the month, the pop-up agency received around three hundred manuscripts from around the world. True to their word, 389 Literary offered feedback to each of the authors, an enormous feat accomplished by the hardworking students of the course, led by honor students Hannah Miller and Wendy Waltrip, who assisted Pearmain in setting up the website and social media accounts for the agency, among other tasks. "I didn't realize how exhausting it could be to read through so many manuscripts," says Waltrip. "I definitely have a huge amount of respect for literary agents now." 
Because of the enthusiastic response to the project, reviewing manuscripts took longer than expected, so Pearmain decided to extend the course with a seven-week spring session. To prepare for the process of evaluating the manuscripts, Pearmain set up what she calls Collaboration Modules, which offered lessons on dealing with group dynamics and differing opinions, useful not only for the purposes of the project, but perhaps also for future workplaces. "My goal is always to open up the world of publishing so students can see the many hands and departments that participate in getting a book into the world," she says. Pearmain also teaches students about the Diversity Baseline Survey (DBS) created in 2015 by Lee & Low Books, an independent publisher focused on multicultural children's books. The goal of the DBS is to report concrete statistics about the diversity of the publishing workforce, focusing on gender, race, sexual orientation, and ability, in order to track progress. Pearmain hopes to impress on the students that although there is much work to be done in terms of increasing diversity in the industry, her students can be a part of that change. 
For their mock acquisition meetings, students presented over Zoom and pitched the manuscripts they thought met the mark, having considered whether the work matched the manuscript wish list of a participating agent or editor, sounded fresh, had a good plot and narrative arc, and would be considered an "Own Voices" book, a term denoting a work by an author from a marginalized or underrepresented group writing about their own perspective. Recognizing that decision-making is subjective was also part of the process, as agents passed on some of the favorite manuscripts of the class and made offers for representation to authors whose manuscripts didn't connect with the students. "The submission process definitely taught me that every person who reads a manuscript will have a different experience with it," says Waltrip. 
Overall the project was well received by everyone involved, especially the students. "This experience has given me so much professional confidence," says Miller. "I've had the opportunity to network with industry professionals, strengthen my feedback skills, and read a ton of amazing stories."
For Pearmain the best outcome of 389 Literary has been the growth of her students. "I hope to demystify the world of publishing a little," she says. "I want to give students tools that will serve them as writers, future publishing professionals, and future business professionals." As for her classes, Pearmain has some plans, including getting even younger students involved. "My bigger goal is to find ways to reach more BIPOC students and create paths to publishing," she says. "I would love to partner with an agency or publishing house to help make that happen. Honestly I believe that will take outreach aimed at high school students. Maybe that will be my next project."  
Jessica Kashiwabara is the digital director of Poets & Writers, Inc.