Two years ago, Gary Dop was about to enter his tenure year as a professor of English at Randolph College in Lynchburg, Virginia. His debut poetry collection, Father, Child, Water, had recently been published by Red Hen Press and would help him secure a comfortable future as an academic. Dop grew up in a conservative military family, bouncing from Tennessee to Germany to Texas, and his goal to provide a different kind of upbringing and stability for his three daughters was now close to reality. It helped that he enjoyed teaching and had fallen in love with the natural landscape of the region—the college sits along the James River, in the foothills of the Blue Ridge Mountains. And yet he felt incomplete. If he was going to stay in this location for years to come, he realized he needed to continue to enrich it by inviting an entire writing community to join him. So he decided to build a low-residency MFA program.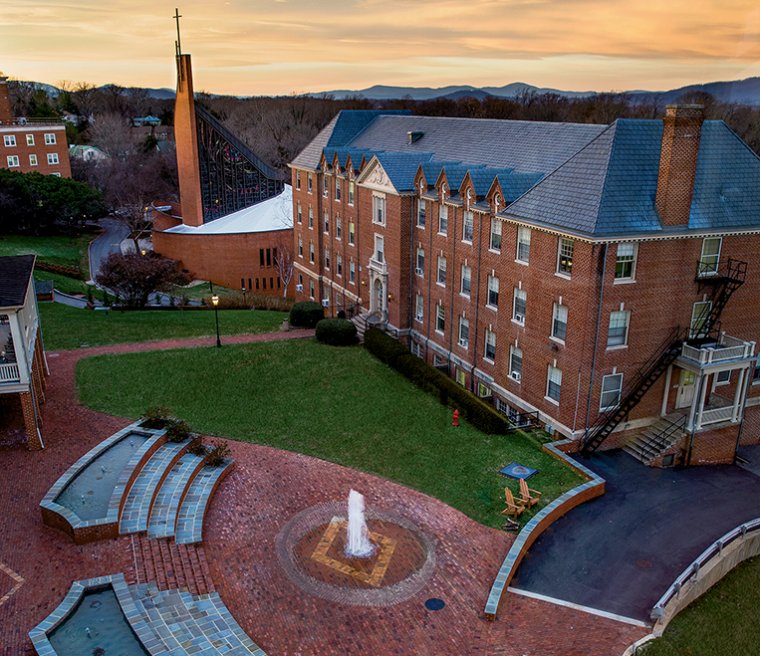 The product of a low-residency graduate writing program himself (he received his MFA at the University of Nebraska in Omaha), Dop appreciated the flexibility that the low-residency model allowed—a community that came together in the spirit of mentorship but then dispersed, the writers pursuing their own individual, independent  journeys. Dop joined forces with Laura-Gray Street, the English department chair at Randolph, who  holds a degree from Warren Wilson College's low-residency MFA program near Asheville, North Carolina. Street and Dop held initial conversations with Randolph president Bradley W. Bateman to get the new program off the ground.  
"We're at a small college, so we were able to have all those conversations within a few days," Dop says. "At every turn the idea was met with enthusiasm and support." 
In many ways it made sense that Randolph College should spearhead Virginia's first and only low-residency MFA program. Founded in 1891 as Randolph-Macon Woman's College, the institution, with its hundred-acre campus, boasts Nobel laureate Pearl S. Buck as a notable alumna. In 1906 it became the first women's college to be admitted to the Association of Colleges and Preparatory Schools of the Southern States, and in 1916 it became the first women's college south of the Potomac River to receive a Phi Beta Kappa chapter. The college became coeducational in 2006 and was renamed a year later, though it has sustained its commitment to women and has been home to a strong undergraduate creative writing curriculum since the 1980s.
The Randolph MFA in Creative Writing—which held its first residency in July—is yet another watershed moment for the college, which has nearly doubled its graduate student population with the inauguration of the new program. But simply creating yet another low-residency MFA program (there are sixty-four included in this year's MFA Index on page 94) was not enough for its creators. This one had to be different. 
"We wanted to put together a program that educates students for the current landscape of literature," Dop says. "This begins with faculty who are shaping literary culture and challenging us to be a program willing to take risks and remain relevant to the social and political climates." 
"We had an extraordinary opportunity with this new program, at this college, in this city," Street adds, "to bring together an energetic and diverse faculty in a way never seen before." 
To begin recruiting faculty, Dop sought the advice of a distinguished advisory board, which includes Jeff Shotts, the executive editor of Graywolf Press, as well as writers Julie Schumacher, Eduardo C. Corral, Erika Meitner, Stephanie Burt, and Gregory Pardlo, who was the Emerging Writer in Residence at Randolph-Macon Woman's College in 2003. The advisory board made informed recommendations according to Dop's wish list. In addition to faculty members who represented significant social diversity and literary excellence, he asked his advisers to consider one other stipulation: "Is this person kind?"
"This might seem like an odd question," Dop says, "but when faculty spend ten days, twice a year, with students and you're asking them to help shape the environment of a new program, you really want people who have a generous spirit." So Dop and his colleagues did more than read each candidate's work and assess résumés; they also scoured interviews, online and in print, and spoke to people who could provide meaningful insights into each candidate's character. The reputation of the new program would be buoyed by the reputations of its faculty. 
And indeed the inaugural faculty is composed of early-career writers who are already reshaping the literary landscape. The impressive list includes poets Kaveh Akbar, Layli Long Soldier, and Phillip B. Williams; novelists and nonfiction writers Kaitlyn Greenidge, Mira Jacob, and Wayétu Moore; poet and novelist Erika L. Sánchez; and nonfiction writer Aviya Kushner. Street credits Camille T. Dungy, who held various faculty and administrative positions at Randolph College from 1999 to 2006, for demonstrating the level of creative energy that writers still early in their career were capable of bringing to a program. While she worked at Randolph, Dungy—who is now the author of four books of poetry and an essay collection, Guidebook to Relative Strangers (Norton, 2017)—was a Cave Canem fellow and had yet to release her first book. But through her planning of literary events and programming, she invited then-emerging writers such as Terrance Hayes, Tyehimba Jess, Tayari Jones, and A. Van Jordan to the college, impressing upon the department the benefits of a varied and inclusive literary education. 
"Camille brought a range of outstanding up-and-coming writers to the college," Street says. "I feel this new MFA is Camille's legacy or certainly a tribute to her presence and ongoing influence."
That legacy can be clearly seen in the MFA program's faculty—whose faces, when gathered together, make for a powerful image, providing an immediate understanding of Randolph College's dedication to diversity. Williams, who is on the poetry faculty, is unequivocal about the new program's mission. 
"We will be diverse in race, gender, sexuality, religion, and aesthetic interests," he says, "and that diversity will be the foundational stone from which we build each other up in letters and in camaraderie."