Among the many new books published every month is a shelf full of notable anthologies, each one showcasing the work of writers united by genre, form, or theme. The Anthologist highlights a few recently released collections, including A Map Is Only One Story: Twenty Writers on Immigration, Family, and the Meaning of Home edited by Nicole Chung and Mensah Demary.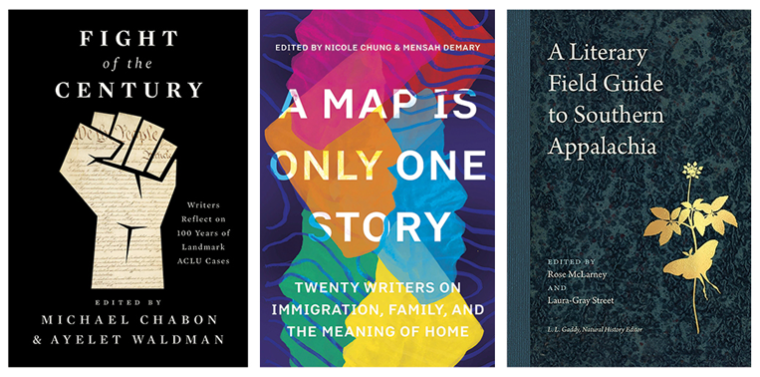 Fight of the Century: Writers Reflect on 100 Years of Landmark ACLU Cases (Avid Reader Press, January 2020), edited by Michael Chabon and Ayelet Waldman, honors the centennial of the American Civil Liberties Union (ACLU) with a collection of essays that explore the organization's major cases. Contributors Geraldine Brooks, Louise Erdrich, Viet Thanh Nguyen, and others examine the histories and legacies of key decisions.

In A Map Is Only One Story: Twenty Writers on Immigration, Family, and the Meaning of Home (Catapult, February 2020), the first anthology of writing from Catapult magazine, editors Nicole Chung and Mensah Demary gather essays that offer "a new definition of home in the twenty-first century." Victoria Blanco, Porochista Khakpour, Niina Pollari, Nadia Owusu, and others upend expected narratives of the immigrant experience.

Part literary tribute to biodiversity, part natural history, A Literary Field Guide to Southern Appalachia (University of Georgia Press, October 2019) celebrates the natural world in poetry and image. Poets including Mary Oliver and Ron Rash contribute lyric portraits of sixty species of the region, from the luna moth to the northern slimy salamander. Editors Rose McLarney, Laura-Gray Street, and L. L. Gaddy pair each poem with a scientific introduction to the plant or animal at hand.