Among the many new books published each season is a shelf full of notable anthologies, each one showcasing the work of writers united by genre, form, or theme. The Anthologist highlights a few recently released or forthcoming collections, including The Long Devotion: Poets Writing Motherhood.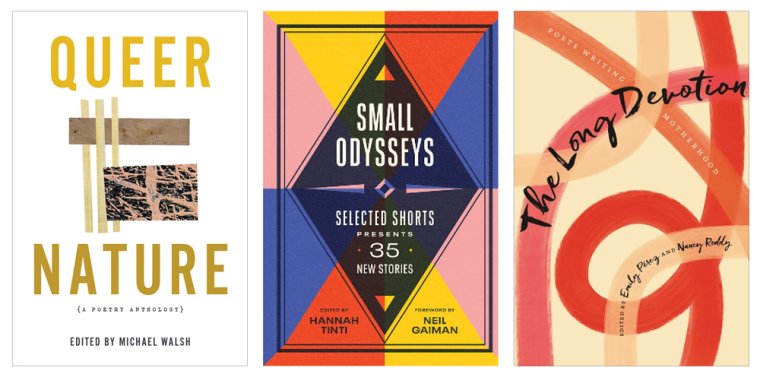 When the poet Michael Walsh first encountered nature poetry, he couldn't square "celebratory pastorals" with his experience growing up on a farm in Minnesota. For Walsh, nature had always been more unruly, and as a farm kid who was taught an animal's worth was defined by its ability to reproduce, he was uncertain about where his queerness fit into the environment he loved. In Queer Nature: A Poetry Anthology (Autumn House Press, April 2022), Walsh collects the work of over two hundred queer and trans poets, from Langston Hughes and Walt Whitman to Franny Choi and Tommy Pico, who challenge and expand our understanding of nature, offering new answers to the questions: "Who belongs here and why? Who and what gets to be natural?"  
Published to celebrate the thirty-fifth anniversary of Selected Shorts—the beloved radio program in which actors read short stories aloud to a live audience at Symphony Space in New York City—Small Odysseys: Selected Shorts Presents 35 New Stories (Algonquin Books, March 2022) features specially commissioned stories from notable writers such as Aimee Bender, Edwidge Danticat, and Weike Wang, and a foreword from Neil Gaiman. In her introduction, editor Hannah Tinti recalls the magic of listening to Selected Shorts on the radio in her early twenties: "There was always a pause by the actor after the final word, a silence that echoed through the theater. I floated in that moment on a raft of connected human feeling." With Small Odysseys, she affords readers similar access to the transcendency of a story well-told.   
Long Devotion: Poets Writing Motherhood (University of Georgia Press, April 2022) offers many answers to the question: "What does it mean to be a mother who writes?" Edited by Emily Pérez and Nancy Reddy, the anthology features poems and essays from a diverse group of writers—"stepparents, adoptive and foster parents, those struggling with infertility, and those who've chosen to remain childless"—each offering a unique window into motherhood.  The result is a collection in which motherhood and artmaking are organically inflected by innumerable other subjects, including mental health, disability, and ethics, proving that "motherhood has so much to teach about the human condition."