This week's installment of Ten Questions features Mahogany L. Browne, whose latest book of poetry, I Remember Death by Its Proximity to What I Love, is out today from Haymarket Books. With I Remember, Browne reveals incarceration as an epidemic and considers how it has fractured both the nation and individual families, including her own. She grieves openly but without sacrificing autonomy over her narrative—she sidesteps those who would dissect and exploit her trauma, who "want to know what my father must have done to be locked up all my life." Instead, she writes for herself, her family, and her community. She repeats a promise: "If I can write / I do / If I can write / I do / I can write / I do." If a single poem cannot undo the "blood hungry" system, I Remember models how to begin challenging it. "I praise Mahogany L. Browne who is a fire starter, a conjurer of essential prayer, and torchbearer who lights the way to justice," writes Tina Chang. "Her words are flame, igniting love and its essential truth." Mahogany L. Browne is a writer, organizer, and educator. She has received fellowships from Agnes Gund, Air Serenbe, Cave Canem, Poets House, the Andrew W. Mellon Foundation, and the Robert Rauschenberg Foundation. Her other recent books include Chlorine Sky, Woke: A Young Poet's Call to Justice, Woke Baby, and Black Girl Magic. She is the executive director of JustMedia, a media literacy initiative designed to support the groundwork of criminal justice leaders and community members, and the founder of the diverse literature initiative, Woke Baby Book Fair. She lives in Brooklyn, New York.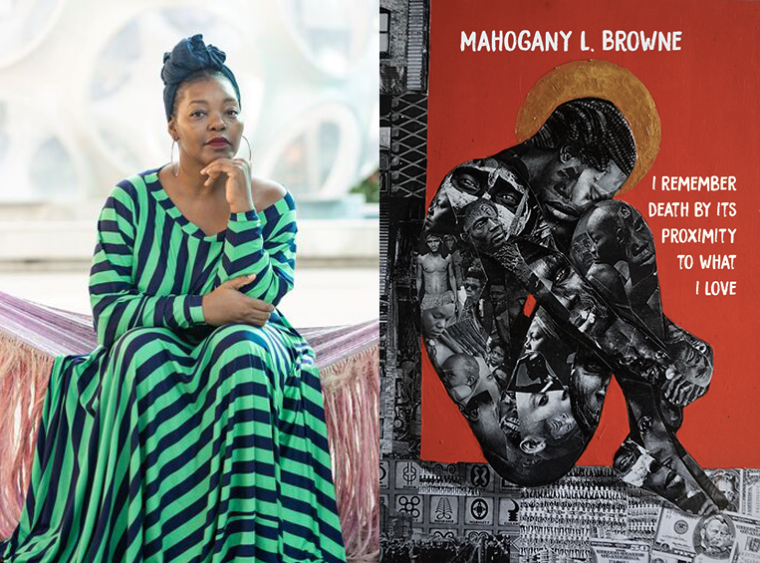 1. How long did it take you to write I Remember Death by Its Proximity to What I Love? 
I've been thinking about this book all my life. I was given the opportunity to think more deeply about it after receiving a grant. So in the winter of 2019 I left the bustle of Brooklyn, New York, to retreat and write in Florida. I lived near the ocean and something about the smell of salt water and the stillness gave me the opportunity to write essays, a television script, two young adult novels, and two children's books. It also gave me the opportunity to sit with this book, the pain, and the shame without rushing through or pushing aside the feelings, but trying to explore the system, through research, films, and interviews with family members.
2. What is the earliest memory that you associate with the book?
The earliest memory I have isn't in the book but begged me to write the book—the memory of my father being taken away by a SWAT team. I was three or four, and I told my mother maybe ten years ago about this "dream." Her face when I shared the dream was full of shock. Then she shook her head and said, "That really happened." It was mind-blowing. But it also allowed me to see how tethered my life is to the police and mass incarceration.
3. What was the most challenging thing about writing the book? 
I had to be honest with myself. I think that's the hardest part of writing. When I ran out of words to say, when I hit the wall of silence, when I ran across the desire to protect the ego rather than be truthful and transparent, I had the most tension. 
4. Where, when, and how often do you write? 
I used to write one hour a day. But with the pandemic I had to figure out a way to be productive without it feeling like I was a failure if I didn't write every single day. This small gesture of self-forgiveness was everything I needed. I was able to write even more than normal. I created poems that lived in different spaces; I began to play with visual poems and different recording methods. Today I remind myself writing is living, too.
5. What are you reading right now? 
I am currently toggling between The Ones Who Don't Say They Love You by Maurice Carlos Ruffin and Me (Moth) by Amber McBride. I love short story collections, including those by ZZ Packer and Nafissa Thompson-Spires, and am renewed by the writer's ability to recreate so many worlds at once. In regards to young adult titles, I am newer to the genre and am just trying to find voices and stories that make me feel the way I felt when I read Sharon M. Draper's Copper Sun or Jacqueline Woodson's Another Brooklyn, or Jason Reynold's Track series. Shout-out to the hair-braiding scene in Patina. It literally made me cry from the tenderness of it all.
6. Which author, in your opinion, deserves wider recognition? 
I have a list. Which is the wildest, right? But when I think of who has pushed a generation of writers, I think there should be more admiration and celebration of Tim Seibles.
7. Who is your most trusted reader of your work and why?
My most trusted reader is a community of readers. Jive Poetic, because we have worked together since 2001 and been each other's sounding board despite how different our writing styles are. Ocean Vuong is a generous reader and comrade from an emerging writers fellowship. Nicole Sealey is a generous reader and sister from my Cave Canem fellowship. And Terrance Hayes is a generous facilitator and reader as he is incredible in his line edits. There are plenty more I have the honor of calling on for clarity and guidance. I feel as if I'm in one of the most elaborate master classes ever. 
8. How did you know when the book was finished? 
I think it was the second to last draft, after my editor Maya Marshall asked some integral questions, that I saw a horizon. Because I wrote this piece as I worked on essays of the same theme, I didn't feel like I had to say every single thing throughout the poem. I gave myself breathing room to open up a feeling or idea, and what didn't work in the poem became an opening for an essay. I tried to balance the two worlds with as much honesty as possible but also honor the forms without compromising the integrity of my voice.
9. What, if anything, will you miss most about working on the book? 
Nothing. I am excited to write about another aspect of my survival, my desires, and my joys. There was so much shame in this project for me to dispel and bury. I will miss the warmth of forgiveness. I will miss the promise of redemption. I think that's a large part of this pandemic, too. The way we grieved and cared for ourselves and our neighbors, our colleagues and our comrades—I think it's slipping away. You can see the fangs of capitalism again. You can see the dying.
10. What's the best piece of writing advice you've ever heard? 
My friend and hero Ocean Vuong says often: That's the great opportunity of being a writer. You arrive at the blank page, and it's your turn. And if you don't, someone else will come and fill in that page, and they might not fill it in with you in mind. And so you have to do it.