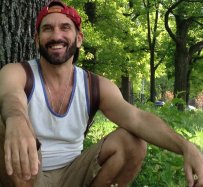 66 W. 12th Street
5th Floor
New York,
NY
10011
Publications and Prizes
Books:
Divining Divas: 100 Gay Men on Their Muses
,
Look Up for Yes
,
The Apprentice of Fever
(
Kent State University Press
,
1998
)
,
The World Underneath
(
Kent State University Press
,
2008
)
Anthologies:
American Poetry: Next Generation
(
Carnegie Mellon University Press
,
2000
)
,
Best of Prairie Schooner
(
University of Nebraska Press
,
2001
)
,
Best of the Small Presses, XXI
,
Family Matters: Poems of Our Families
,
Flicker and Spark: A Contemporary Anthology of Queer Spoken Word and Poetry
,
I Do/I Don't: Queers on Marriage
,
My Diva: 65 Gay Men on the Women Who Inspire Them
(
University of Wisconsin Press
,
2009
)
,
The Next of Us Is About to Be Born: In Celebration of the Twenty-fifth Anniversary of the Wick Poetry Center
(
Kent State University Press
,
2009
)
,
The World in Us, Lesbian & Gay Poetry of the Next Wave
(
St. Martin's Press
,
2000
)
,
Things Shaped in Passing: More 'Poets for Life'
,
"the volcano sequence as Fragmentary, Postmodern (and Yes, Feminist) Text"
(
The University of Michigan Press
,
2018
)
Journals:
Advocate
,
Bloom
,
Colorado Review
,
Crazyhorse
,
Gay and Lesbian Review
,
Global City Review
,
Kenyon Review
,
Lambda Book Report
,
Michigan Quarterly Review
,
Nightsun
,
Paris Review
,
Pleiades
,
Virginia Quarterly Review
,
Washington Square Review
Prizes Won:
The Wick Poetry Prize (1997) Pushcart Prize (1996) New York Foundation for the Arts Fellowship (2003) Chancellor's Fellowship from the City University of New York (2006) DC Center for the LGBT Community's Smoking Words Poetry Competition, 2nd place (2011) Prairie Schooner's Edward Stanley and Bernice Slote awards (1997 & 2004)
Personal Favorites
What I'm Reading Now:
Fire in the Belly: The Life and Times of David Wojnarowicz
by
,
The Recovering: Intoxication and Its Aftermath
by
,
,
Citizen: An American Lyric
by
,
Favorite Books:
Fire in the Belly: The Life and Times of David Wojnarowicz by Cynthia Carr; To the Lighthouse by Virginia Woolf; Sin by Ai; Madness by Sam Sax; Calling a Wolf a Wolf by Kaveh Akbar; Remembrance of Things Past by Marcel Proust; Too Bright to See by Linda Gregg; Lit by Mary Karr; Another Country by James Baldwin; The Wild Boys by William S. Burroughs; Love Alone: Eighteen Elegies for Rog by Paul Monette; Paradise Lost by John Milton; The Four Zoas by William Blake; Thomas and Beulah by Rita Dove; Neon Vernacular by Yusef Komunyakaa; The End of Beauty by Jorie Graham; In the Western Night by Frank Bidart; Just Kids by Patti Smith
Reviews, Recordings, and Interviews
More Information
Listed as:
Creative Nonfiction Writer, Poet
work_excerpt:
My right hand, alive again, separates me from now. But somewhere between close the wound and drown in love's debris, skin comes back to feel the hook of chorus reach through glass to pull the song and the boney kid closer. Rubbery appendage and flexible, not like legs or hands. It pulses with electricity, separate as a doll part. Detachable; if my hand pulls too hard at the root of his flush, off he'll swivel, clean as a Barbie leg. There is his face to consider: turning a shade of unripe plum, especially when he palms my head and I taste what seems wet Gumby. Closes his eyes, but not like when I hear women sing. More like concentration, a bearing down. And though housebound, we're not alone. Leaning on shag against his father's console are James Taylor's suspended grin, Carole King's eyes framed by frizzed hair curtain, the Moody Blues' white-haired mystic holding crystals by a gold thread that illuminates the mesmerized boy. Sound illuminates me, globed and engoldened, before a crowd that includes Joni Mitchell and the Partridge clan—a public of Greg's making. The glass door opens and famous faces watch me slide into dark matter. Vale of shadow, odor of Wolf, wet leaf rot was the soaked smell of chlorinated boy. Singer's sorrow, the saddest piano I've ever heard behind her, and a muzzle nuzzling my front. I wanted to hide behind song, but Wolf barred motility. As Greg's face morphed into Oregon farmboy, song and leaf stench merged—and I'm pouring Pellegrino for two men in sports jackets (tweed? crocodile green?) and a woman bedecked in (black?) silk, guests of Carly Simon.
Last updated: Sep 14, 2018